Equipment Sales
Testimonials
"...By the way, your technician did a great job and I was very happy with his work. Good job Tangent!"
Fred Jones - Paragon Medical, Inc.

Shimpo MF Series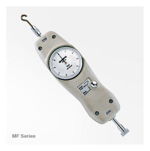 Incredibly durable and user-friendly, our economical mechanical gauges are excellent for repetitive testing in assembly line or quality control lab applications. The peak mode features an easy push-button reset; this is especially helpful for doing repetitive testing in an assembly line or quality control lab. The real time mode allows you to see force changes as they occur.
Ergonomically designed for handheld use, gauges may be used with the optional handle (great for loads over 15 pounds). Response time is immediate. Large, easy to read dial indicators are designed to reduce gauge parallax.
The MF gauges feature a die-cast aluminum housing. Mounts easily to all Shimpo test stands for even greater control of repetitive testing. Two year warranty.
The MF is offered in 7 imperial and 8 metric capacities:
MF-2 (2 lb x 0.01 lb)
MF-5 (5 lb x 0.025 lb)
MF-10 (10 lb x 0.05 lb)
MF-20 (20 lb x 0.1 lb)
MF-30 (30 lb x 0.2 lb)
MF-50 (50 lb x 0.25 lb)
MF-100- (100 lb x 0.5 lb)
MF-1KG (1 kg x 0.005 kg)
MF-2KG (2 kg x 0.01 kg)
MF-3KG (3 kg x 0.02 kg)
MF-5KG (5 kg x 0.025kg)
MF-10KG - (10 kg x 0.05 kg)
MF-20KG - (20 kg x 0.1 kg)
MF-30KG - (30 kg x 0.2 kg)
MF-50KG - (50 kg x 0.25 kg)
Tangent News
We are excited to announce that as of January 2022, Tangent Labs is now a Transcat company!