Equipment Sales
Testimonials
"Thank you Tangent Labs!
Having just taken a new position with my company-I had a lot of challenges and even more questions. Tangent Labs has been a lifesaver for me! The services offered by your company have been extremely helpful. My calibrations, certifications and tracking system are now all up to date and easy to access! Thank you Tangent Labs!-But an even bigger Thank You to the people at Tangent Labs for all of their patience and help!"
Julann Main - American Keeper Corp.

Shimpo FGV-XY Series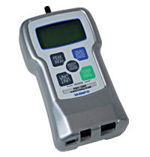 The all NEW DART 2.0: FGV-XY series gauges from SHIMPO combine the extensive features of the SHIMPO DFS series with the rugged, ergonomic and compact design of the original DART series to provide a complete force testing instrument for a variety of industries. With free software and toriemon USB, the FGV-XY provides a total package for force testing up to 200lbs.
The ergonomically designed DART 2.0 provides an easy to use force gauge for incoming quality inspection, finished goods testing, R&D and other force-related applications. Onboard statistic calculations provide fast access to maximum, minimum, average and standard deviation data.
The USB port and 1,000 point memory allows for data to be easily exported in real time or once testing is complete. In addition, the RS-232C and analog outputs allow the DART 2.0 series maximum flexibility.
Applications where the DART 2.0 series excels: Wallboard, wire pull, wire crimp, trigger pull, brake pedal, aerospace ceramic, spring, food ripeness, corrugated paper strength, blister pack medical component, muscle strength and ergonomic testing.
The FGV-XY is offered in 9 capacities:
FGV-0.5XY - (0.5 lb x 0.001 lb)
FGV-1XY - (1.0 lb x 0.001 lb)
FGV-2XY - (2.0 lb x 0.001 lb)
FGV-5XY - (5.0 lb x 0.001 lb)
FGV-10XY - (10 lb x 0.01 lb)
FGV-20XY - (20 lb x 0.01 lb)
FGV-50XY - (50 lb x 0.01 lb)
FGV-100XY - (100 lb x 0.1 lb)
FGV-200XY - (200 lb x 0.1 lb)
Tangent News
We have a new never used (or opened) Western MCLA High Pressure Reserve Medical Manifold for sale...