Equipment Sales
Testimonials
"I am pleased to recommend Tangent Labs LLC to anyone in need of a highly professional and competent ISO-17025 registered firm. We have found Tangent to be a valuable partner and resource in our ongoing requirement to operate a QMS with reliable measurement data.
We have found their people to be highly competent and personable, their help- with metrology issues always available, and their pricing reasonable for the value provided.
After calibration activity is concluded, the QMS relies on the reports of that activity. Tangent Labs excels in this matter.; Their color reports are clear, accurate, and a joy to read for anyone concerned with measurement uncertainty and IM&TE status. This ISO-17025 certified lab also adds value-added service by making those reports accessible to us on their website in a secure manner. It is a very nice feeling to have this "back-up status" when we undergo our annual ISO/TS 16949 audit.
In the event we are in need of equipment, we know we can rely on Tangent for help in selecting the right equipment for the right measurement to assure quality.
I strongly recommend Tangent Labs LLC to anyone in search of a customer-oriented, internationally certified, calibration services firm."
Joseph T. Druecker - Heartland Automotive LLC

Shimpo FGV-XY Series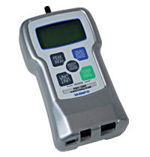 The all NEW DART 2.0: FGV-XY series gauges from SHIMPO combine the extensive features of the SHIMPO DFS series with the rugged, ergonomic and compact design of the original DART series to provide a complete force testing instrument for a variety of industries. With free software and toriemon USB, the FGV-XY provides a total package for force testing up to 200lbs.
The ergonomically designed DART 2.0 provides an easy to use force gauge for incoming quality inspection, finished goods testing, R&D and other force-related applications. Onboard statistic calculations provide fast access to maximum, minimum, average and standard deviation data.
The USB port and 1,000 point memory allows for data to be easily exported in real time or once testing is complete. In addition, the RS-232C and analog outputs allow the DART 2.0 series maximum flexibility.
Applications where the DART 2.0 series excels: Wallboard, wire pull, wire crimp, trigger pull, brake pedal, aerospace ceramic, spring, food ripeness, corrugated paper strength, blister pack medical component, muscle strength and ergonomic testing.
The FGV-XY is offered in 9 capacities:
FGV-0.5XY - (0.5 lb x 0.001 lb)
FGV-1XY - (1.0 lb x 0.001 lb)
FGV-2XY - (2.0 lb x 0.001 lb)
FGV-5XY - (5.0 lb x 0.001 lb)
FGV-10XY - (10 lb x 0.01 lb)
FGV-20XY - (20 lb x 0.01 lb)
FGV-50XY - (50 lb x 0.01 lb)
FGV-100XY - (100 lb x 0.1 lb)
FGV-200XY - (200 lb x 0.1 lb)
Tangent News
We have a new never used (or opened) Western MCLA High Pressure Reserve Medical Manifold for sale...