Equipment Sales
Testimonials
"I just wanted to let you know that I was very impressed with your technicians today. They were very professional and polite. Thanks again!"
Alyssa Mahlke - Endocyte Inc.

Shimpo FGV-HX Series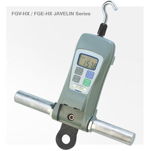 The microprocessor-controlled, digital FGV-HX and FGE-HX series offers the same user-friendly features of our popular FGV-X and FGE-X series, but in an extremely heavy-duty case, allowing the gauges to handle larger capacities from 200 to 1,000 pounds. Shown with two removable "knurled" steel handles are provided for hand operation and a hanger is included which enables each gauge to be used as a scale.
The FGV-HX series includes all FGE-HX features plus RS232C output, RS-232C cable, (analog cable is extra) analog outputs and an overload output signal. One year warranty.
The FGV-HX is offered in 3 capacities:
FGV-200HX - (200 lb x 0.1 lb)
FGV-500HX - (500 lb x 0.1 lb)
FGV-1000HX - (1000lb x 0.1 lb)
Tangent News
We are excited to announce that as of January 2022, Tangent Labs is now a Transcat company!