Equipment Sales
Testimonials
"Tangent Labs was quick to respond to an urgent calibration need. Their technicians arrived at the appointed time, were neat in appearance and were very professional and knowledgeable.
Calibration documents are complete and easy to understand. Tangent will be getting all of our outsourced calibration business in the future."
Cindy Berghoff - Precision Plastics

Shimpo FGV-HX Series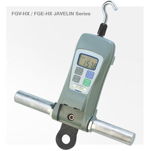 The microprocessor-controlled, digital FGV-HX and FGE-HX series offers the same user-friendly features of our popular FGV-X and FGE-X series, but in an extremely heavy-duty case, allowing the gauges to handle larger capacities from 200 to 1,000 pounds. Shown with two removable "knurled" steel handles are provided for hand operation and a hanger is included which enables each gauge to be used as a scale.
The FGV-HX series includes all FGE-HX features plus RS232C output, RS-232C cable, (analog cable is extra) analog outputs and an overload output signal. One year warranty.
The FGV-HX is offered in 3 capacities:
FGV-200HX - (200 lb x 0.1 lb)
FGV-500HX - (500 lb x 0.1 lb)
FGV-1000HX - (1000lb x 0.1 lb)
Tangent News
We are excited to announce that as of January 2022, Tangent Labs is now a Transcat company!