Equipment Sales
Testimonials
"I am pleased to recommend Tangent Labs LLC to anyone in need of a highly professional and competent ISO-17025 registered firm. We have found Tangent to be a valuable partner and resource in our ongoing requirement to operate a QMS with reliable measurement data.
We have found their people to be highly competent and personable, their help- with metrology issues always available, and their pricing reasonable for the value provided.
After calibration activity is concluded, the QMS relies on the reports of that activity. Tangent Labs excels in this matter.; Their color reports are clear, accurate, and a joy to read for anyone concerned with measurement uncertainty and IM&TE status. This ISO-17025 certified lab also adds value-added service by making those reports accessible to us on their website in a secure manner. It is a very nice feeling to have this "back-up status" when we undergo our annual ISO/TS 16949 audit.
In the event we are in need of equipment, we know we can rely on Tangent for help in selecting the right equipment for the right measurement to assure quality.
I strongly recommend Tangent Labs LLC to anyone in search of a customer-oriented, internationally certified, calibration services firm."
Joseph T. Druecker - Heartland Automotive LLC

Shimpo FGV-HX Series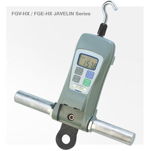 The microprocessor-controlled, digital FGV-HX and FGE-HX series offers the same user-friendly features of our popular FGV-X and FGE-X series, but in an extremely heavy-duty case, allowing the gauges to handle larger capacities from 200 to 1,000 pounds. Shown with two removable "knurled" steel handles are provided for hand operation and a hanger is included which enables each gauge to be used as a scale.
The FGV-HX series includes all FGE-HX features plus RS232C output, RS-232C cable, (analog cable is extra) analog outputs and an overload output signal. One year warranty.
The FGV-HX is offered in 3 capacities:
FGV-200HX - (200 lb x 0.1 lb)
FGV-500HX - (500 lb x 0.1 lb)
FGV-1000HX - (1000lb x 0.1 lb)
Tangent News
We have a new never used (or opened) Western MCLA High Pressure Reserve Medical Manifold for sale...