Equipment Sales
Testimonials
"Thank you Tangent Labs!
I want to thank you for all the help and hanging in to get the job done. Even though you had to jump through hoops, everything came out great in the end. Thanks for your patience and help with all my questions."
Michael Jackson - Daicel Safety Systems America

Shimpo FGV-HX Series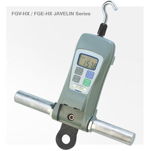 The microprocessor-controlled, digital FGV-HX and FGE-HX series offers the same user-friendly features of our popular FGV-X and FGE-X series, but in an extremely heavy-duty case, allowing the gauges to handle larger capacities from 200 to 1,000 pounds. Shown with two removable "knurled" steel handles are provided for hand operation and a hanger is included which enables each gauge to be used as a scale.
The FGV-HX series includes all FGE-HX features plus RS232C output, RS-232C cable, (analog cable is extra) analog outputs and an overload output signal. One year warranty.
The FGV-HX is offered in 3 capacities:
FGV-200HX - (200 lb x 0.1 lb)
FGV-500HX - (500 lb x 0.1 lb)
FGV-1000HX - (1000lb x 0.1 lb)
Tangent News
We have a new never used (or opened) Western MCLA High Pressure Reserve Medical Manifold for sale...