Equipment Sales
Testimonials
"Thank you Tangent Labs!
I want to thank you for all the help and hanging in to get the job done. Even though you had to jump through hoops, everything came out great in the end. Thanks for your patience and help with all my questions."
Michael Jackson - Daicel Safety Systems America

Shimpo FGS-1000H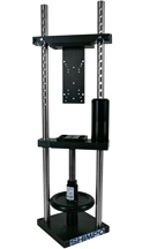 Shimpo introduces its NEW 1000 lbs (2500N, 500KG) capacity manual test stand.
Designed for convenient testing in both TENSION and COMPRESSION, the FGS-1000H is easy to set-up and operate.
With its ability to mount the Shimpo JAVELIN, FGV-1000HX (1000 lbs, 2500N, 500KG) capacity digital force gauge, this system is a great fit for most force testing applications.
A highly accurate turn-wheel gives a precise 0.1" travel per revolution. In addition, it's rigged and rugged construction provides repeatable and reliable testing, time after time. The FGS-1000H features fully adjustable height ranges, customizable lengths (for different sample sizes) and the option to add a length/height meter.
With counter sunk (force gauge) mounting holes, a self aligning, pre-tapped sliding sample base plate, the FGS-1000H provides a welcome alternative to utilizing existing force gauges, grips attachments and accessories.
FGS-1000H users can also use all existing ranges of Shimpo FGE/FGV-X and the new Dart 2.0 FGV-0.5 up to FGV-200XY (0.5 lbs to 200 lbs)!
In addition, it will also fit other manufacturers force gauges.
Tangent News
We have a new never used (or opened) Western MCLA High Pressure Reserve Medical Manifold for sale...