Equipment Sales
Testimonials
"I would like to express my appreciation for the great job that you and the Tangent Labs team performed for Praxair Surface Technologies last month. We needed to have a calibration certificate for a VWR pipette before our audit. Your service was really professional and we are going to use Tangent Labs in the future."
Marina Berezhnev - Praxair Surface Technologies Inc.

Shimpo DT-900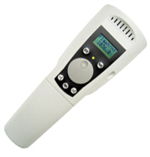 The DT-900 TechStrobe and DT-900-PR TechStrobe Professional Kit from Shimpo Instruments is the perfect tool for slow motion, or stop action stroboscopic inspection. The Shimpo TechStrobe is the only palm size unit to include a Phase shift feature. Phase shifting allows the TechStrobe operator to advance or retard the flash timing by degrees of angle, without changing the actual flash rate (FPM) of the TechStrobe.
Employing its unique Phase shifting feature, the TechStrobe freezes rotating or reciprocating machinery for visual inspection of covered gear teeth, shafts, oil/fuel/ink injector patterns, and print media; all without stopping production.
The TechStrobe is completely portable and operates up to 2.5 hours at 1600 FPM from its detachable, rechargeable battery. The ergonomically designed battery serves as the padded grip area. The battery is quickly detached and recharged while another battery is snapped into place.
Designed for right or left hand, all TechStrobe functions are intuitive and easy to use. Quality and Maintenance Professionals will appreciate the rotary and push button controls for internal flash (FPM/RPM) control, external triggering, tachometer mode and Phase shift control. The push buttons rapidly increase (x 2), or decrease (2) the flashes per minute (FPM) and change by degrees the Flash phase.
Compact, impact resistant and rugged, with that balanced feeling for one-handed operation, the
TechStrobe will quickly become one of the Quality and Maintenance Professionals favorite tools.
| | |
| --- | --- |
| Features | Benefits |
| Rechargeable replaceable Battery | Fast "Click in" battery battery replacement for recharging |
| Long Battery Charge Life | Minimum of 2.5 hrs at 1600 FPM (flash per Minute) |
| Ergonomic Design | One handed operation |
| Intuitive Control Layout | Simple to operate |
| Small hand held design | Fits most hands, easy to hold |
| Light Weight/padded handle | Reduced fatigue,easy to hold |
| Tri-pod Mount | Hands free holding with (1/4 x 20) mounting for swing arms, camera style tripods |
| Rotary and Push Button Flash Control | Fast Up/Down push button, Fine tune with Rotary encoder |
| Flash Phase Shift | Precise flash timing control (5 degree increments) push button or rotary control |
| Fast Charger | No long wait for re-charging |
| Continuous Duty (adjustable) | Full time Flash with selectable "automatic off |
| Tach Mode | Provide RPM display when external sensor is attached |
Tangent News
We are excited to announce that as of January 2022, Tangent Labs is now a Transcat company!