Equipment Sales
Testimonials
"Tangent Labs was a logical choice to send equipment to be calibrated when our Lab was faced with a large amount of equipment to have calibrated. Our Lab had used Tangent Labs before and were always pleased with their service and caliber of work. It was a definite plus that they would pickup our equipment because shipping delicate equipment is always a concern. Their personnel are always courteous and prompt. Their turnaround time is fantastic and our equipment is always handled with care. They are able to accommodate priorities when necessary. Our Lab will continue to send equipment to Tangent Labs because they have earned the trust through the work that they perform and their customer service. There would be no hesitation on recommending Tangent Labs to anyone."
Lee Ann Kelly - Computer Science Corporation

Shimpo DT-326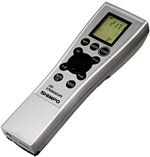 LED SABERSTROBE - MODEL DT-326
The SaberStrobe is an all new LED stroboscope utilizing super bright light emitting diodes (LEDs) in an appealing, durable all metal design. The DT-326s unique LED array provides an accurate and stable strobe light. Innovative industrial design allows for a longer flash life - 5 times longer than traditional xenon flashtubes! With its intuitive ONE HAND controls, wide and adjustable flash rate, brightness and focus control, AC or DC operation and silent operation, the Shimpo DT-326 LED SaberStrobe provides a superior value in a practical package.
| | |
| --- | --- |
| Features | Benefits |
| Wide Flash Range: | 60-120,000 flashes per minute, can be applied to meet almost any HIGH-SPEED application |
| Ratio Control (Flash Pulse Duration): | Adjustable Flash Pulse duration achieves sharper images for critical inspection |
| ECO Mode: | Brightness control extends battery life |
| AC/DC Operation: | AC adapter for continuous use or (4xAA batteries) for maximum portability |
| Phase Shift: | Advance or retard flash timing for viewing gear teeth, cutting surfaces, repeats or �drifting� images |
| All Metal Construction: | Durable, comfortable, hand-held, fixed or swing arm mounted |
| Input/Output Interface: | Input sensor triggers or Output synchronization controls |
Tangent News
We are excited to announce that as of January 2022, Tangent Labs is now a Transcat company!