Equipment Sales
Testimonials
"Thank you Tangent Labs!
Having just taken a new position with my company-I had a lot of challenges and even more questions. Tangent Labs has been a lifesaver for me! The services offered by your company have been extremely helpful. My calibrations, certifications and tracking system are now all up to date and easy to access! Thank you Tangent Labs!-But an even bigger Thank You to the people at Tangent Labs for all of their patience and help!"
Julann Main - American Keeper Corp.

Shimpo DT-315AEB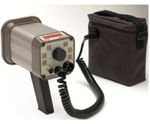 A truly portable unit, the DT-315AEB operates independent of line power via an exterior battery pack that can be carried with a convenient shoulder harness or set down to allow the operator full movement for visual inspection. When fully charged, rechargeable batteries power the strobe for approximately four continuous hours. The DT-315AEB also incorporates the same impressive features as our DT-311A and DT-315A strobes. One year warranty.
| | |
| --- | --- |
| Features | Benefits |
| Extruded aluminum construction | Extraordinary durability yields long service life |
| External battery supply | Lightweight; enables easy portability |
| Repeatable accuracy (� 0.01% of reading) | Fully meets the strictest tolerances |
| Microprocessor-controlled | Guarantees uncompromising performance in volatile temperature environments |
| Phase shift (in degrees of delay time) | Enables visual analysis of rotating/reciprocating objects through all points of motion/time/angle |
| Flash timer control | Prolongs flash tube life |
| Manual flash controller knob | Permits easy/accurate adjustments to flash rate |
| External trigger | Allows synchronization of the flash rate with the motion of the rotating machinery |
| Synchronous output | Allows unit to power other strobes |
| Continuous duty cycle | Eliminates downtime waiting for unit to cool |
| Highly polished focused reflector | Prevents �blind� viewing areas |
Tangent News
We have a new never used (or opened) Western MCLA High Pressure Reserve Medical Manifold for sale...