Equipment Sales
Testimonials
"I just wanted to let you know that I was very impressed with your technicians today. They were very professional and polite. Thanks again!"
Alyssa Mahlke - Endocyte Inc.

Shimpo DT-315AEB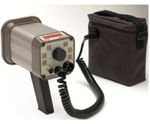 A truly portable unit, the DT-315AEB operates independent of line power via an exterior battery pack that can be carried with a convenient shoulder harness or set down to allow the operator full movement for visual inspection. When fully charged, rechargeable batteries power the strobe for approximately four continuous hours. The DT-315AEB also incorporates the same impressive features as our DT-311A and DT-315A strobes. One year warranty.
| | |
| --- | --- |
| Features | Benefits |
| Extruded aluminum construction | Extraordinary durability yields long service life |
| External battery supply | Lightweight; enables easy portability |
| Repeatable accuracy (� 0.01% of reading) | Fully meets the strictest tolerances |
| Microprocessor-controlled | Guarantees uncompromising performance in volatile temperature environments |
| Phase shift (in degrees of delay time) | Enables visual analysis of rotating/reciprocating objects through all points of motion/time/angle |
| Flash timer control | Prolongs flash tube life |
| Manual flash controller knob | Permits easy/accurate adjustments to flash rate |
| External trigger | Allows synchronization of the flash rate with the motion of the rotating machinery |
| Synchronous output | Allows unit to power other strobes |
| Continuous duty cycle | Eliminates downtime waiting for unit to cool |
| Highly polished focused reflector | Prevents �blind� viewing areas |
Tangent News
We are excited to announce that as of January 2022, Tangent Labs is now a Transcat company!