Equipment Sales
Testimonials
"I just wanted to take a minute to thank you for your efforts with our LRK5. We got the board this morning and had it up and running this afternoon, huge relief. Really appreciate you working to have the board drop shipped to us and all the time you spent with trying to resolve the issue before we spent money on a new board."
Ray Young - Jaeger-Unitek Sealing Solutions

Shimpo DT-315A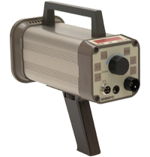 The microprocessor-controlled DT-315A possesses the same great features of the DT-311A with the added convenience of total portability via its own internal power supply with up to one hour of full time, high intensity flash rate. Powered by rechargeable batteries located inside its rugged aluminum housing, the DT-315A also performs as an AC line-powered strobe when plugged into its standard AC adapter/charger unit. One year warranty.
| | |
| --- | --- |
| Features | Benefits |
| Extruded aluminum construction | Exceptional durability |
| Internal battery supply | Allows 4 hours of continuous duty on 1 charge |
| Continuous duty cycle | Prevents downtime waiting for unit to cool |
| Phase shift (in degrees of delay time) | Enables observer to focus on one particular area of rotating and/or reciprocating machinery |
| Repeatable accuracy (� 0.01% of reading) | Provides reliable measurement results |
| Microprocessor-controlled | Assures stability in changing temperature environments |
| External trigger | Unit is automatically synchronized with equipment |
| Synchronous output | Enables unit to drive other strobes |
| Flash timer control | Extends flash tube life |
| Highly polished focused reflector | Eliminates �blind� viewing areas |
| Manual flash controller knob | Permits easy/accurate adjustments to flash rate |
| Fast recharge cycle | Minimizes downtime to only 2 hours |
Tangent News
We have a new never used (or opened) Western MCLA High Pressure Reserve Medical Manifold for sale...