Equipment Sales
Testimonials
"I would like to express my appreciation for the great job that you and the Tangent Labs team performed for Praxair Surface Technologies last month. We needed to have a calibration certificate for a VWR pipette before our audit. Your service was really professional and we are going to use Tangent Labs in the future."
Marina Berezhnev - Praxair Surface Technologies Inc.

Shimpo DT-311J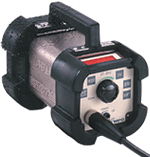 DT-311J stroboscopes - designed for harsh and wet work areas. Where powerful illumination and rugged speed measuring accuracy are required for the textile industry, the DT-311J will perform where other stroboscopes will not.
The DT-311J is used to set injection timing, injection pressure, timing of shedding and weft running time of weaving machinery.
Rugged-Drip Proof (IP65) Housing, High Performance Accuracy, Special Phase shifting, w/ Shock Absorbing components and top mounted handle, allows the equipment operator maximum flexibility when setting the timing of weaving machinery.
| | |
| --- | --- |
| Features | Benefits |
| IP65 Sealed Construction | Spray and wash down proof; sealed against oil and moisture |
| Extruded Aluminum Construction | Exception Durability |
| Extra Long Flash tube life | Almost no maintenance |
| Special Flash control | Observe Injection timing, Injection Pressure, timing of Shedding, Weft running time |
| Division Switch (DIV) | Special timing shifts: 1/1, 1/2, 1/3, 1/4 2/4 for different textile conditions |
| Internal or External Trigger | Provides flash control by manual or external signal input such as sensors and contact switches |
| Adjustable on/off timer | Saves flash tube life, adjustable flash runtime or selectable override |
| Heavy Duty Rubber Boot | Protects stroboscope from mishandling |
Tangent News
We have a new never used (or opened) Western MCLA High Pressure Reserve Medical Manifold for sale...