Equipment Sales
Testimonials
"I just wanted to let you know that I was very impressed with your technicians today. They were very professional and polite. Thanks again!"
Alyssa Mahlke - Endocyte Inc.

Shimpo DT-311J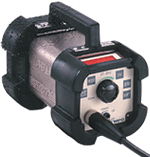 DT-311J stroboscopes - designed for harsh and wet work areas. Where powerful illumination and rugged speed measuring accuracy are required for the textile industry, the DT-311J will perform where other stroboscopes will not.
The DT-311J is used to set injection timing, injection pressure, timing of shedding and weft running time of weaving machinery.
Rugged-Drip Proof (IP65) Housing, High Performance Accuracy, Special Phase shifting, w/ Shock Absorbing components and top mounted handle, allows the equipment operator maximum flexibility when setting the timing of weaving machinery.
| | |
| --- | --- |
| Features | Benefits |
| IP65 Sealed Construction | Spray and wash down proof; sealed against oil and moisture |
| Extruded Aluminum Construction | Exception Durability |
| Extra Long Flash tube life | Almost no maintenance |
| Special Flash control | Observe Injection timing, Injection Pressure, timing of Shedding, Weft running time |
| Division Switch (DIV) | Special timing shifts: 1/1, 1/2, 1/3, 1/4 2/4 for different textile conditions |
| Internal or External Trigger | Provides flash control by manual or external signal input such as sensors and contact switches |
| Adjustable on/off timer | Saves flash tube life, adjustable flash runtime or selectable override |
| Heavy Duty Rubber Boot | Protects stroboscope from mishandling |
Tangent News
We have a new never used (or opened) Western MCLA High Pressure Reserve Medical Manifold for sale...