Equipment Sales
Testimonials
"Mr Mathes was beyond professional, especially in light of the issues we had with the changes that we had made. I would like to thank him and Tangent for the excellent job and look forward to next year."
Doug Cherry - Life Science Logistics

Shimpo DT-209X / DT-209X-S12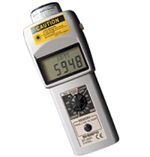 Demanded by loyal users of the popular DT-205L laser tachometers, Shimpo responded by creating the DT-209X series of LASER combination hand held tachometers. Based on the DT-205L with its rugged construction and quality components; the DT-209X is equipped with DATA COLLECTION features that adds flexibility in the field for Maintenance, Quality Control and R&D professionals.
Simultaneous storage of data in three different measuring modes (USB, Standard, and Average) both the DT-209X and DT-209X-S12 offer incredible value and the use of ease in Contact and Non-contact applications.
Enhanced download features and online controls, showing trending and real time data via USB communication and Analog output; you can easily access your data by the Free Software in each DT-209X package.
| | |
| --- | --- |
| Features | Benefits |
| Hand held data acquisition | Collects data instantly |
| All Metal Construction | Rugged, Reliable and survives tough industrial environment |
| 5 digit display LCD | Large, easy to read Display w/ units of measure indicators |
| Removable Head Assembly Contact and Non-Contact | Permits Contact and Non-Contact measurement (RPM, Linear Rate and LENGTH) |
| High Accuracy | For critical MRO and QC rate and LENGTH measurements |
| Wide measuring capability | 0.8 - 25.000 RPM, (Contact mode), 6.0 � 99,999 rpm (Non-contact mode) - Converts easily from Contact or Non-Contact testing |
| Software and USB cable provided | Nothing extra needed, turn it on and measure. No extra parts needed |
| Three measuring modes Standard, USB, Average | Data may be collected 3 ways, Graphing capability available for view as it occurs in USB mode. Data saved in .csv format, which can be opened by spreadsheet programs |
| Scalable 1-volt analog output (USB mode) | Great for chart recording and simultaneous display of data |
| Long Range (1.5 M) Measuring Distance (non-contact LASER) | Safer for high speed applications and confined spaces |
| AA Batteries or USB power | Allows uninterrupted monitoring, great for life testing, batteries are not used whenever the USB cable is detected |
| 5 minute auto power off for battery operation | Saves battery life for remote operation |
| Synchronize clock for Standard and Average mode results | Time stamps data for better documentation |
| Multiple Measuring units (Contact and Non-Contact) | Greater Measuring Flexibility |
| 1/4 x 20 mounting hole | Provides stationary mounting for greater accuracy. (Can be mounted on a tripod or bracket) |
Tangent News
We are excited to announce that as of January 2022, Tangent Labs is now a Transcat company!