Equipment Sales
Testimonials
"Thank you Tangent Labs!
Having just taken a new position with my company-I had a lot of challenges and even more questions. Tangent Labs has been a lifesaver for me! The services offered by your company have been extremely helpful. My calibrations, certifications and tracking system are now all up to date and easy to access! Thank you Tangent Labs!-But an even bigger Thank You to the people at Tangent Labs for all of their patience and help!"
Julann Main - American Keeper Corp.

Shimpo DT-209X / DT-209X-S12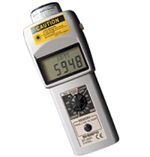 Demanded by loyal users of the popular DT-205L laser tachometers, Shimpo responded by creating the DT-209X series of LASER combination hand held tachometers. Based on the DT-205L with its rugged construction and quality components; the DT-209X is equipped with DATA COLLECTION features that adds flexibility in the field for Maintenance, Quality Control and R&D professionals.
Simultaneous storage of data in three different measuring modes (USB, Standard, and Average) both the DT-209X and DT-209X-S12 offer incredible value and the use of ease in Contact and Non-contact applications.
Enhanced download features and online controls, showing trending and real time data via USB communication and Analog output; you can easily access your data by the Free Software in each DT-209X package.
| | |
| --- | --- |
| Features | Benefits |
| Hand held data acquisition | Collects data instantly |
| All Metal Construction | Rugged, Reliable and survives tough industrial environment |
| 5 digit display LCD | Large, easy to read Display w/ units of measure indicators |
| Removable Head Assembly Contact and Non-Contact | Permits Contact and Non-Contact measurement (RPM, Linear Rate and LENGTH) |
| High Accuracy | For critical MRO and QC rate and LENGTH measurements |
| Wide measuring capability | 0.8 - 25.000 RPM, (Contact mode), 6.0 � 99,999 rpm (Non-contact mode) - Converts easily from Contact or Non-Contact testing |
| Software and USB cable provided | Nothing extra needed, turn it on and measure. No extra parts needed |
| Three measuring modes Standard, USB, Average | Data may be collected 3 ways, Graphing capability available for view as it occurs in USB mode. Data saved in .csv format, which can be opened by spreadsheet programs |
| Scalable 1-volt analog output (USB mode) | Great for chart recording and simultaneous display of data |
| Long Range (1.5 M) Measuring Distance (non-contact LASER) | Safer for high speed applications and confined spaces |
| AA Batteries or USB power | Allows uninterrupted monitoring, great for life testing, batteries are not used whenever the USB cable is detected |
| 5 minute auto power off for battery operation | Saves battery life for remote operation |
| Synchronize clock for Standard and Average mode results | Time stamps data for better documentation |
| Multiple Measuring units (Contact and Non-Contact) | Greater Measuring Flexibility |
| 1/4 x 20 mounting hole | Provides stationary mounting for greater accuracy. (Can be mounted on a tripod or bracket) |
Tangent News
We have a new never used (or opened) Western MCLA High Pressure Reserve Medical Manifold for sale...