Equipment Sales
Testimonials
"I just wanted to take a minute to thank you for your efforts with our LRK5. We got the board this morning and had it up and running this afternoon, huge relief. Really appreciate you working to have the board drop shipped to us and all the time you spent with trying to resolve the issue before we spent money on a new board."
Ray Young - Jaeger-Unitek Sealing Solutions

Shimpo DT-207LR-S12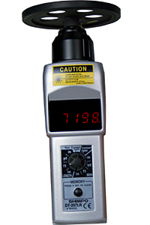 Incorporating the precise laser technology and user-friendly functions as our DT-207LR-S12 tachometers provide exceptional accuracy in measuring speed and length via a 12 wheel; the larger wheel rotates more slowly than a standard 6 wheel, enabling reliable and safe registration of high speeds. These superior instruments also feature a contact adapter, conveniently allowing both non-contact and contact measurement. One year warranty.
| | |
| --- | --- |
| Features | Benefits |
| Advanced laser beam detection | Enables safe RPM measurement from 14 feet |
| Extremely accurate | Fully meets the strictest tolerances |
| Length and rate functions | Increases value/versatility via added applications |
| Multi-mode speed selection | Provides versatility via 10 selections |
| Extensive speed range (up to 99,999 RPM) | Maximizes usage in almost limitless applications |
| All-metal construction | Exceptional durability; withstands harsh use |
| Large 5 digit display | Permits easy reading |
| Expansive 10 test memory capacity | Allows thorough equipment/process inspection |
| Lengthy battery life (25 hours) | Longer operating times are achieved |
| Free N.I.S.T. certificate | Permits easy compliance with regulations |
| CE mark | Compliant with applicable EU directives |
Tangent News
We have a new never used (or opened) Western MCLA High Pressure Reserve Medical Manifold for sale...