Equipment Sales
Testimonials
"Your representative came in today to calibrate and I asked if he could do our chart recorders too. He was great and accommodated what I needed for the audit. We also got his annual food safety training completed. Great guy!"
Lisa Hughes - Bremner Food Group

Shimpo DT-207LR-S12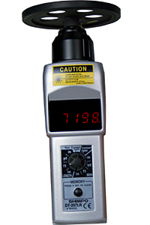 Incorporating the precise laser technology and user-friendly functions as our DT-207LR-S12 tachometers provide exceptional accuracy in measuring speed and length via a 12 wheel; the larger wheel rotates more slowly than a standard 6 wheel, enabling reliable and safe registration of high speeds. These superior instruments also feature a contact adapter, conveniently allowing both non-contact and contact measurement. One year warranty.
| | |
| --- | --- |
| Features | Benefits |
| Advanced laser beam detection | Enables safe RPM measurement from 14 feet |
| Extremely accurate | Fully meets the strictest tolerances |
| Length and rate functions | Increases value/versatility via added applications |
| Multi-mode speed selection | Provides versatility via 10 selections |
| Extensive speed range (up to 99,999 RPM) | Maximizes usage in almost limitless applications |
| All-metal construction | Exceptional durability; withstands harsh use |
| Large 5 digit display | Permits easy reading |
| Expansive 10 test memory capacity | Allows thorough equipment/process inspection |
| Lengthy battery life (25 hours) | Longer operating times are achieved |
| Free N.I.S.T. certificate | Permits easy compliance with regulations |
| CE mark | Compliant with applicable EU directives |
Tangent News
We have a new never used (or opened) Western MCLA High Pressure Reserve Medical Manifold for sale...