Equipment Sales
Testimonials
"I am pleased to recommend Tangent Labs LLC to anyone in need of a highly professional and competent ISO-17025 registered firm. We have found Tangent to be a valuable partner and resource in our ongoing requirement to operate a QMS with reliable measurement data.
We have found their people to be highly competent and personable, their help- with metrology issues always available, and their pricing reasonable for the value provided.
After calibration activity is concluded, the QMS relies on the reports of that activity. Tangent Labs excels in this matter.; Their color reports are clear, accurate, and a joy to read for anyone concerned with measurement uncertainty and IM&TE status. This ISO-17025 certified lab also adds value-added service by making those reports accessible to us on their website in a secure manner. It is a very nice feeling to have this "back-up status" when we undergo our annual ISO/TS 16949 audit.
In the event we are in need of equipment, we know we can rely on Tangent for help in selecting the right equipment for the right measurement to assure quality.
I strongly recommend Tangent Labs LLC to anyone in search of a customer-oriented, internationally certified, calibration services firm."
Joseph T. Druecker - Heartland Automotive LLC

Shimpo DT-207LR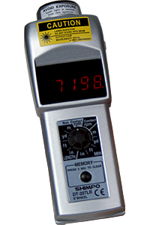 Our NEW DT-207LR tachometers incorporate laser technology yet retain our hallmark rugged construction and reliable quality components; both offer incredible value and versatility as they perform non-contact and contact applications via the included contact adapter. We're confident you'll agree that these fine units are the most advanced handheld tachometers on the market! One year warranty.
| | |
| --- | --- |
| Features | Benefits |
| Sophisticated laser beam detection | Safely allows RPM detection in hard- to-reach or dangerous areas |
| Exceptional accuracy | Assures reliable measurement results |
| Length and rate functions | Offer expanded measurement capabilities |
| Multi-mode speed selection | 10 selections allow optimum versatility |
| Broad speed range (up to 99,999 RPM) | Covers a wide range of applications |
| Hardy aluminum construction | Assures maintenance-free performance for many years |
| Large 5 digit display | Numbers are easily readable |
| Expansive 10 test memory capacity (selectable to 5 minutes or more) | Stores last/min/max readings for thorough equipment/process inspection |
| LExtended battery life (25 hours) | Advanced power management for longer operating times/increased productivity |
| Free N.I.S.T. certificate | Permits easy compliance with regulations |
| CE mark | Compliant with applicable EU directives |
Tangent News
We have a new never used (or opened) Western MCLA High Pressure Reserve Medical Manifold for sale...