Equipment Sales
Testimonials
"Tangent Labs was a logical choice to send equipment to be calibrated when our Lab was faced with a large amount of equipment to have calibrated. Our Lab had used Tangent Labs before and were always pleased with their service and caliber of work. It was a definite plus that they would pickup our equipment because shipping delicate equipment is always a concern. Their personnel are always courteous and prompt. Their turnaround time is fantastic and our equipment is always handled with care. They are able to accommodate priorities when necessary. Our Lab will continue to send equipment to Tangent Labs because they have earned the trust through the work that they perform and their customer service. There would be no hesitation on recommending Tangent Labs to anyone."
Lee Ann Kelly - Computer Science Corporation

Shimpo DT-205LR-S12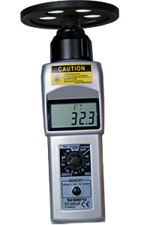 Incorporating the precise laser technology and user-friendly functions as our DT-205LR-S12 tachometers, the DT-205LR-S12 provide exceptional accuracy in measuring speed and length via a 12 wheel; the larger wheel rotates more slowly than a standard 6 wheel, enabling reliable and safe registration of high speeds. These superior instruments also feature a contact adapter, conveniently allowing both non-contact and contact measurement. One year warranty.
| | |
| --- | --- |
| Features | Benefits |
| Advanced laser beam detection | Enables safe RPM measurement from 14 feet |
| Extremely accurate | Fully meets the strictest tolerances |
| Length and rate functions | Increases value/versatility via added applications |
| Multi-mode speed selection | Provides versatility via 10 selections |
| Extensive speed range (up to 99,999 RPM) | Maximizes usage in almost limitless applications |
| All-metal construction | Exceptional durability; withstands harsh use |
| Large 5 digit display | Permits easy reading |
| Expansive 10 test memory capacity | Allows thorough equipment/process inspection |
| Lengthy battery life (40 hours) | Longer operating times are achieved |
| Free N.I.S.T. certificate | Permits easy compliance with regulations |
| CE mark | Compliant with applicable EU directives |
Tangent News
We have a new never used (or opened) Western MCLA High Pressure Reserve Medical Manifold for sale...