Equipment Sales
Testimonials
"I am pleased to recommend Tangent Labs LLC to anyone in need of a highly professional and competent ISO-17025 registered firm. We have found Tangent to be a valuable partner and resource in our ongoing requirement to operate a QMS with reliable measurement data.
We have found their people to be highly competent and personable, their help- with metrology issues always available, and their pricing reasonable for the value provided.
After calibration activity is concluded, the QMS relies on the reports of that activity. Tangent Labs excels in this matter.; Their color reports are clear, accurate, and a joy to read for anyone concerned with measurement uncertainty and IM&TE status. This ISO-17025 certified lab also adds value-added service by making those reports accessible to us on their website in a secure manner. It is a very nice feeling to have this "back-up status" when we undergo our annual ISO/TS 16949 audit.
In the event we are in need of equipment, we know we can rely on Tangent for help in selecting the right equipment for the right measurement to assure quality.
I strongly recommend Tangent Labs LLC to anyone in search of a customer-oriented, internationally certified, calibration services firm."
Joseph T. Druecker - Heartland Automotive LLC

Setra Super Count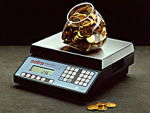 The Super Count couples the benefits of Setra's high resolution ceramic sensor with an intelligently designed full-function keyboard to deliver a high accuracy, easy to use counting scale at a surprisingly moderate price.
The patented variable capacitance weighing technology lets the scale display weight changes as minute as 1 part in 125,000. The internal resolution, which is four to ten times greater than the display readability, allows operators to work with smaller sample sizes thereby saving time and reducing hand counting errors. Each of the seven weighing capacities has been carefully designed to protect the sensor from overload and shock. The heavy duty construction and full two year warranty assure consistent performance even when subjected to rough industrial handling. Whether used for production weighing, inventory control, transaction processing, kitting or quality control, versatility and extremely high accuracy make the Super Count an exceptional value.
Model
SuperCount 2.2lb x 0.00002lb
SuperCount 5.5lb x 0.00005lb
SuperCount 11.0 lb x 0.0001 lb
SuperCount 27.0 lb x 0.0005 lb
SuperCount 55.0 lb x 0.001 lb
SuperCount 75.0 lb x 0.002 lb
SuperCount 110.0 lb x 0.002 lb
Tangent News
We are excited to announce that as of January 2022, Tangent Labs is now a Transcat company!