Equipment Sales
Testimonials
"I would like to express to you that I believe your organization is one of the best I've ever worked with in providing quality service in a timely manner. Your employees are extremely professional and always willing to go above and beyond the call of duty to resolve any issues. Your staff is full of highly trained professionals and I'd like to personally say thank you for providing excellent service.
In closing I would just like to thank Tangent labs and its employees for providing exceptional service to Mossberg & Co. Quality Department. I would like to wish you good luck with your A2LA recertification but I'm sure you guys won't need it."
Bob Byers - Mossberg & Co.

Sartorius TE Series Balance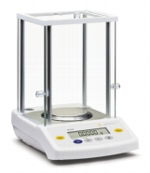 If you compare the specifications of many lab balances on paper, they all look the same -- if you're seen one, you've seen them all. But in the real world there is more to a lab balance than just it's technical specifications.
The new Sartorius Extend series laboratory balances has been specifically designed for effective and reliable weighing in daily lab routines. This is where more powerful technology and application-oriented operation and features make all the difference.
More versatility in high-resolution applications: 1 mg to 620 g and 10 mg to 6200 grams. Sartorius makes top-of-the-line technology at reasonable cost... the new level of excellence.
Reliable weighing results, all of the time -- even under less than ideal ambient conditions, thanks to the Sartorius Extend's highly sophisticated digital compensation algorithms. Sartorius utilizes 21st century technology, such as their unique robotically etched monolithic weigh cell, which ensures long-term, high accuracy and minimizes the effects of temperature drift. It provides the legendary dependability that users the world over have come to appreciate in a genuine Sartorius lab balance. Also, the novel housing finish of the Extend balances are made to withstand many aggressive solvents, such as acetone and ethanol.
Fast cleaning and rugged design: The side doors, top sliding door and all stainless steel parts of the analytical draft shield chamber are easy to remove for convenient and thorough cleaning.
User-friendly operation: Short, plain-English text prompts and cursor keys for navigation make it simple for you to configure the balance to meet your individual requirements.
The level indicator is positioned conveniently right next to the display so that checking whether the balance is level becomes "second nature" to the operator. What's more, all keys feature positive click action.
Tangent News
We are excited to announce that as of January 2022, Tangent Labs is now a Transcat company!