Equipment Sales
Testimonials
"Tangent Labs was a logical choice to send equipment to be calibrated when our Lab was faced with a large amount of equipment to have calibrated. Our Lab had used Tangent Labs before and were always pleased with their service and caliber of work. It was a definite plus that they would pickup our equipment because shipping delicate equipment is always a concern. Their personnel are always courteous and prompt. Their turnaround time is fantastic and our equipment is always handled with care. They are able to accommodate priorities when necessary. Our Lab will continue to send equipment to Tangent Labs because they have earned the trust through the work that they perform and their customer service. There would be no hesitation on recommending Tangent Labs to anyone."
Lee Ann Kelly - Computer Science Corporation

Sartorius EA/EB Series Balance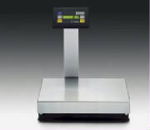 The Sartorius Express line of digital platform scales are affordable. rugged scales, with the high quality you'd expect from a Sartorius balance.� Now all the reliability, accuracy and rugged performance of Sartorius scales are available at a more economical price with the Sartorius Express Series.� Sartorius EA models provide net total weighing only; while the Sartorius EB models offer you a choice of one additional function -- counting, animal weighing, totalizing, percent weighing, toggling between gross and net values, mass unit conversion, second tare memory and formula calculation.
Both the Sartorius EA and Sartorius EB models include unique Sartorius SPEED-UP technology that delivers accurate, stable results in half a second along with the advanced Poly-range feature that allows for increasing resolution by 2x for one-half of the maximum weighing capacity.� Both series include an output serial port and customizable printouts with two lines of text such as company name and customer name.
Rugged construction with overload protection up to 2x scale capacity

Highest quality craftsmanship

Generous sized stainless steel weighing platforms

SPEED UP technology - stable results within approx. second after loading the sample

Clearly marked function keys for easy operation

Capable of generating printout for tare, net and gross values

Backlit display and tactile keypad for total ease of operation

Automatic container taring function

Stainless steel load plate

Built-in serial RS-232C interface as a standard feature for data communication to PC or printer

Extremely rugged with shock absorbing stainless steel load plate

Stable weight readouts - even during AC power fluctuations or at locations next to motors or heavy duty machinery that consumes considerable power

EA Economy models come with only the "weighing" function, the EB Economy models have one extra function that you can choose by menu code:
Counting

Animal Weighing

Totalizing

Percentage Weighing

Toggling between gross/net values

Mass unit conversion by toggling

2nd tare memory for net-total (including automatic container taring function)

Formula calculation using a factor

Tangent News
We have a new never used (or opened) Western MCLA High Pressure Reserve Medical Manifold for sale...