Equipment Sales
Testimonials
"Tangent Labs was a logical choice to send equipment to be calibrated when our Lab was faced with a large amount of equipment to have calibrated. Our Lab had used Tangent Labs before and were always pleased with their service and caliber of work. It was a definite plus that they would pickup our equipment because shipping delicate equipment is always a concern. Their personnel are always courteous and prompt. Their turnaround time is fantastic and our equipment is always handled with care. They are able to accommodate priorities when necessary. Our Lab will continue to send equipment to Tangent Labs because they have earned the trust through the work that they perform and their customer service. There would be no hesitation on recommending Tangent Labs to anyone."
Lee Ann Kelly - Computer Science Corporation

Sartorius CPA Series Balance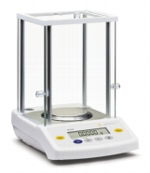 The new Sartorius CP generation of the field-proven Sartorius Competence series of laboratory balances, whose reliability has won over many users in their daily lab procedures, sets the standards yet again in technology, quality and features. The new CP is the first choice for those who wish to avoid the risk of buying the "wrong" weighing equipment. This series includes 5 analytical balances with finely staggered weighing ranges from 64 to 320 g.
The combination of high-performance technological features in every CPA analytical balance with a rugged, built-to-last design ensures the best possible accuracy in continuous laboratory use.
Every CPA analytical balance has exactly the performance features that are required for fast and professional processing of weighing tasks. These include, for example, ISO/GLP recording and printing, in conjunction with a YDP03-0CE data printer from Sartorius or a computer. The bidirectional RS-232C data interface provides the basis for communication with other equipment, such as a computer.
Built-in, user-friendly application programs provide valuable support for advanced requirements, such as weighing in percent, net-total formulation, animal weighing, mass unit conversion and counting.
Built-in, motorized calibration weight ensures the highest accuracy at the press of a key
isoCAL calibration and adjustment function; facilitates regular, fully automatic calibration and adjustment to ensure the consistently high accuracy of the balance
Backlit display (except model CPA225D); digit size: 16 mm; read off results without error regardless of ambient lighting conditions
Generously dimensioned draft shield; easily to clean
Innovative, patented monolithic weigh cell for outstanding performance
Model
CPA225D 100g/220g x 0.00001g /0.0001g
CPA324S 320g x 0.00001g
CPA224S 220g x 0.00001g
CPA124S 120g x 0.0001g
CPA64 64g x 0.0001g
Tangent News
We have a new never used (or opened) Western MCLA High Pressure Reserve Medical Manifold for sale...