Equipment Sales
Testimonials
"Tangent Labs was a logical choice to send equipment to be calibrated when our Lab was faced with a large amount of equipment to have calibrated. Our Lab had used Tangent Labs before and were always pleased with their service and caliber of work. It was a definite plus that they would pickup our equipment because shipping delicate equipment is always a concern. Their personnel are always courteous and prompt. Their turnaround time is fantastic and our equipment is always handled with care. They are able to accommodate priorities when necessary. Our Lab will continue to send equipment to Tangent Labs because they have earned the trust through the work that they perform and their customer service. There would be no hesitation on recommending Tangent Labs to anyone."
Lee Ann Kelly - Computer Science Corporation

Pennsylvania 7500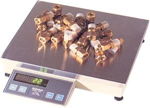 Basic counting scale A basic counting scale designed for speed and exceptional accuracy. Fast, one button counting; operation with Auto Sample Update for improved accuracy; weight displayed in two different units of measure; heavy duty cast construction; fast and convenient set-up and calibration; clean design with bright display; optional Battery A/C power for portability.
The model 7500 easy one button counting scale. Auto sample update for improved accuracy. 1 part in 1million internal resolution. Bright green LED display. Weight is displayed in two different units of measure and count. Keys for ZERO, Sample Set, Units, Print. Optional battery for portable operation. RS232 bidirectional interface for printers, data collection or manifest systems. 120VAC, 15.5"W x 14"D x 5.25"H NTEP 91-149, III, 10,000 div.
Auto sample update

RS-232 interface

Heavy duty cast construction

2 units of measure

12'' x 14'' platform or 8'' square (2lb & 5lb)

Bright LED display

4 year warranty

Optional battery for portability (factory installed only)

1 button counting

| | | |
| --- | --- | --- |
| Part | Capacity | Platform Size |
| 7500-5 | 5 x 0.0005lbs | 8" x 8" |
| 7500-10 | 10 x 0.001lbs | 12" x 12" |
| 7500-25 | 25 x 0.002 lbs | 12" x 14" |
| 7500-50 | 50 x 0.005 lbs | 12" x 14" |
| 7500-100 | 100 x 0.01lbs | 12" x 14" |
| 7500-200 | 200 x 0.02lbs | 12" x 14" |
Tangent News
We have a new never used (or opened) Western MCLA High Pressure Reserve Medical Manifold for sale...