Equipment Sales
Testimonials
"Thank you Tangent Labs!
I want to thank you for all the help and hanging in to get the job done. Even though you had to jump through hoops, everything came out great in the end. Thanks for your patience and help with all my questions."
Michael Jackson - Daicel Safety Systems America

Pennsylvania 7000 Series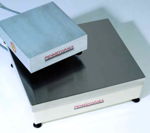 One of the industry's best kept secrets:� The rugged and highly accurate 7000 Series platform-- which uses a rugged die cast powder coated base structure and large 12 x 14" Stainless Steel top plate (10-200 lbs models).� 10' cable to a Quick Disconnect, fully calibrated to any Pennsylvania Scale digital indicator.
NTEP and Canada Weights & Measures approved

Very heavy duty construction yet high resolution, excellent value!

4 Year Limited Warranty

Suited to a wide range of weighing and parts counting requirements

2 & 5 lbs models 8 x 8" aluminum alloy platform

10, 20, 25*, 50, 100, 150, and 200 lbs capacity models: 12 x 14" Stainless steel top platform (*25 lbs unit is not NTEP approved)

Tangent News
We have a new never used (or opened) Western MCLA High Pressure Reserve Medical Manifold for sale...