Equipment Sales
Testimonials
"Tangent Labs was a logical choice to send equipment to be calibrated when our Lab was faced with a large amount of equipment to have calibrated. Our Lab had used Tangent Labs before and were always pleased with their service and caliber of work. It was a definite plus that they would pickup our equipment because shipping delicate equipment is always a concern. Their personnel are always courteous and prompt. Their turnaround time is fantastic and our equipment is always handled with care. They are able to accommodate priorities when necessary. Our Lab will continue to send equipment to Tangent Labs because they have earned the trust through the work that they perform and their customer service. There would be no hesitation on recommending Tangent Labs to anyone."
Lee Ann Kelly - Computer Science Corporation

Pennsylvania 7000 Series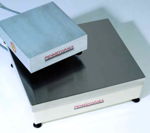 One of the industry's best kept secrets:� The rugged and highly accurate 7000 Series platform-- which uses a rugged die cast powder coated base structure and large 12 x 14" Stainless Steel top plate (10-200 lbs models).� 10' cable to a Quick Disconnect, fully calibrated to any Pennsylvania Scale digital indicator.
NTEP and Canada Weights & Measures approved

Very heavy duty construction yet high resolution, excellent value!

4 Year Limited Warranty

Suited to a wide range of weighing and parts counting requirements

2 & 5 lbs models 8 x 8" aluminum alloy platform

10, 20, 25*, 50, 100, 150, and 200 lbs capacity models: 12 x 14" Stainless steel top platform (*25 lbs unit is not NTEP approved)

Tangent News
We have a new never used (or opened) Western MCLA High Pressure Reserve Medical Manifold for sale...