Equipment Sales
Testimonials
"I would like to express to you that I believe your organization is one of the best I've ever worked with in providing quality service in a timely manner. Your employees are extremely professional and always willing to go above and beyond the call of duty to resolve any issues. Your staff is full of highly trained professionals and I'd like to personally say thank you for providing excellent service.
In closing I would just like to thank Tangent labs and its employees for providing exceptional service to Mossberg & Co. Quality Department. I would like to wish you good luck with your A2LA recertification but I'm sure you guys won't need it."
Bob Byers - Mossberg & Co.

Pennsylvania 7000 Series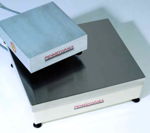 One of the industry's best kept secrets:� The rugged and highly accurate 7000 Series platform-- which uses a rugged die cast powder coated base structure and large 12 x 14" Stainless Steel top plate (10-200 lbs models).� 10' cable to a Quick Disconnect, fully calibrated to any Pennsylvania Scale digital indicator.
NTEP and Canada Weights & Measures approved

Very heavy duty construction yet high resolution, excellent value!

4 Year Limited Warranty

Suited to a wide range of weighing and parts counting requirements

2 & 5 lbs models 8 x 8" aluminum alloy platform

10, 20, 25*, 50, 100, 150, and 200 lbs capacity models: 12 x 14" Stainless steel top platform (*25 lbs unit is not NTEP approved)

Tangent News
We are excited to announce that as of January 2022, Tangent Labs is now a Transcat company!