Equipment Sales
Testimonials
"Mr Mathes was beyond professional, especially in light of the issues we had with the changes that we had made. I would like to thank him and Tangent for the excellent job and look forward to next year."
Doug Cherry - Life Science Logistics

Pennsylvania 7000 Series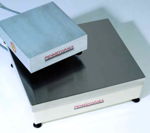 One of the industry's best kept secrets:� The rugged and highly accurate 7000 Series platform-- which uses a rugged die cast powder coated base structure and large 12 x 14" Stainless Steel top plate (10-200 lbs models).� 10' cable to a Quick Disconnect, fully calibrated to any Pennsylvania Scale digital indicator.
NTEP and Canada Weights & Measures approved

Very heavy duty construction yet high resolution, excellent value!

4 Year Limited Warranty

Suited to a wide range of weighing and parts counting requirements

2 & 5 lbs models 8 x 8" aluminum alloy platform

10, 20, 25*, 50, 100, 150, and 200 lbs capacity models: 12 x 14" Stainless steel top platform (*25 lbs unit is not NTEP approved)

Tangent News
We have a new never used (or opened) Western MCLA High Pressure Reserve Medical Manifold for sale...