Equipment Sales
Testimonials
"I am pleased to recommend Tangent Labs LLC to anyone in need of a highly professional and competent ISO-17025 registered firm. We have found Tangent to be a valuable partner and resource in our ongoing requirement to operate a QMS with reliable measurement data.
We have found their people to be highly competent and personable, their help- with metrology issues always available, and their pricing reasonable for the value provided.
After calibration activity is concluded, the QMS relies on the reports of that activity. Tangent Labs excels in this matter.; Their color reports are clear, accurate, and a joy to read for anyone concerned with measurement uncertainty and IM&TE status. This ISO-17025 certified lab also adds value-added service by making those reports accessible to us on their website in a secure manner. It is a very nice feeling to have this "back-up status" when we undergo our annual ISO/TS 16949 audit.
In the event we are in need of equipment, we know we can rely on Tangent for help in selecting the right equipment for the right measurement to assure quality.
I strongly recommend Tangent Labs LLC to anyone in search of a customer-oriented, internationally certified, calibration services firm."
Joseph T. Druecker - Heartland Automotive LLC

Pennsylvania 6900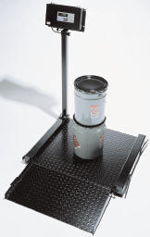 The 6900 Mild Steel Barrel Weighing Scale has a flat 30" x 30" weighing surface; a capacity of 1,000 Lbs (500 kg); rugged, heavy duty design; sensortronics premium load cells with 100% end loading; adjustable leveling feet; live side rails for overall size of 30" x 36"; hinged ramp (1) standard: 30" x 18". Package includes retracting wheels, (1) ramp, indicator column, and 7600 indicator. Applications: Drums, kegs, or barrels - loading by wheeled cart; Commercial laundries; Industrial weighing & counting systems; Shipping and Receiving verfications; Food or Chemical Processing; and General utility weighing in a wide range of applications.
Tangent News
We have a new never used (or opened) Western MCLA High Pressure Reserve Medical Manifold for sale...