Equipment Sales
Testimonials
"Tangent Labs was a logical choice to send equipment to be calibrated when our Lab was faced with a large amount of equipment to have calibrated. Our Lab had used Tangent Labs before and were always pleased with their service and caliber of work. It was a definite plus that they would pickup our equipment because shipping delicate equipment is always a concern. Their personnel are always courteous and prompt. Their turnaround time is fantastic and our equipment is always handled with care. They are able to accommodate priorities when necessary. Our Lab will continue to send equipment to Tangent Labs because they have earned the trust through the work that they perform and their customer service. There would be no hesitation on recommending Tangent Labs to anyone."
Lee Ann Kelly - Computer Science Corporation

Pennsylvania 6600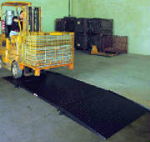 Proven Floor Scales: On-floor or In-floor
Mild Steel or Stainless Steel models

We can make custom scales for washdown food processing facilities with easy access detachable top plates and Stainless Steel load cells.

24 x 24" 500 lbs capacity to 96 x 120" 40,000 lbs capacity

All floor scales are not alike! Pennsylvania 6600 Series floor scales are designed for least life cost and sustained accuracy with features that outperform the competition:
Premium black powder coat finish (mild steel models up to 60 x 60" 10K capacity)

Premium Sensortronics or, Coti load cells (4) adjustable leveling feet

100% end loading capable of handling off-center loads or tanks

Heavy duty construction and low profile designed for portable or permanent applications

Free matching to any Pennsylvania Scale indicator for a plug & play installation

Wide range of capacities, platform sizes, and accessories such as ramps, pit frames and anchor plates

Made in USA - ship NAFTA Free Trade to Canada and Mexico

Suitable for Commercial Applications (subject to local Weights & Measures regulations)

Sizes from 24 x 24" to 96 x 120" and capacities 500 lbs to 40,000 lbs

FIVE YEAR Limited Warranty

Tangent News
We have a new never used (or opened) Western MCLA High Pressure Reserve Medical Manifold for sale...