Equipment Sales
Testimonials
"I am pleased to recommend Tangent Labs LLC to anyone in need of a highly professional and competent ISO-17025 registered firm. We have found Tangent to be a valuable partner and resource in our ongoing requirement to operate a QMS with reliable measurement data.
We have found their people to be highly competent and personable, their help- with metrology issues always available, and their pricing reasonable for the value provided.
After calibration activity is concluded, the QMS relies on the reports of that activity. Tangent Labs excels in this matter.; Their color reports are clear, accurate, and a joy to read for anyone concerned with measurement uncertainty and IM&TE status. This ISO-17025 certified lab also adds value-added service by making those reports accessible to us on their website in a secure manner. It is a very nice feeling to have this "back-up status" when we undergo our annual ISO/TS 16949 audit.
In the event we are in need of equipment, we know we can rely on Tangent for help in selecting the right equipment for the right measurement to assure quality.
I strongly recommend Tangent Labs LLC to anyone in search of a customer-oriented, internationally certified, calibration services firm."
Joseph T. Druecker - Heartland Automotive LLC

Pennsylvania 6400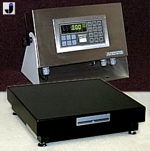 Rugged, heavy duty tube steel frame construction for extended durability and accuracy. 5" high platform is available in four capacities and three sizes. The single point load cell design offers positive overload protection on all corners. 10'interconnect cable connects platform to model 7600 ( included ) Features: full function numeric keypad, RS-232 interface, lbs/kg selectable, bright LED display, 4 year warranty indiator, 3 year platform. Available options include: Attached 38" column and bracket assembly , caster kit. Some assembly may be required/ Ships via UPS
NTEP approved

Heavy duty tube steel construction for heavy industrial use

RS-232 interface

Can be used in permanent or portable applications

Ships via UPS

4 year warranty-indicator

3 year warranty-platform

Tangent News
We are excited to announce that as of January 2022, Tangent Labs is now a Transcat company!