Equipment Sales
Testimonials
"Mr Mathes was beyond professional, especially in light of the issues we had with the changes that we had made. I would like to thank him and Tangent for the excellent job and look forward to next year."
Doug Cherry - Life Science Logistics

Pennsylvania 6400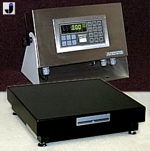 Rugged, heavy duty tube steel frame construction for extended durability and accuracy. 5" high platform is available in four capacities and three sizes. The single point load cell design offers positive overload protection on all corners. 10'interconnect cable connects platform to model 7600 ( included ) Features: full function numeric keypad, RS-232 interface, lbs/kg selectable, bright LED display, 4 year warranty indiator, 3 year platform. Available options include: Attached 38" column and bracket assembly , caster kit. Some assembly may be required/ Ships via UPS
NTEP approved

Heavy duty tube steel construction for heavy industrial use

RS-232 interface

Can be used in permanent or portable applications

Ships via UPS

4 year warranty-indicator

3 year warranty-platform

Tangent News
We have a new never used (or opened) Western MCLA High Pressure Reserve Medical Manifold for sale...