Equipment Sales
Testimonials
"I would like to express to you that I believe your organization is one of the best I've ever worked with in providing quality service in a timely manner. Your employees are extremely professional and always willing to go above and beyond the call of duty to resolve any issues. Your staff is full of highly trained professionals and I'd like to personally say thank you for providing excellent service.
In closing I would just like to thank Tangent labs and its employees for providing exceptional service to Mossberg & Co. Quality Department. I would like to wish you good luck with your A2LA recertification but I'm sure you guys won't need it."
Bob Byers - Mossberg & Co.

Pennsylvania 6200 Series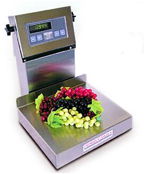 SIMPLE, CLEAN OPERATION, extra large sanitary platform, and VALUE PRICING make the 6200+ a great choice for a wide range of applications!
Wet or Dry, Large or Small, whatever you weigh or count there's a 6200+ to exceed your needs. With your choice of Digital Indicator - and the availability of a wide range of optional outputs from relays to Analog to 2nd Base inputs - the 6200+ adapts to your requirements.
Stainless Steel construction - open architecture for easy cleaning

IP66 Environmentally Sealed Aluminum load cell for quick display response and excellent performance in a wide range of applications and environments

Jumbo 12" x 14" platform with 2" lip at rear, sanitary design

Standard RS-232 Data output to a wide range of printers and systems

High resolution parts counting (7500+, 7600+)

Uses proven PLUS+ Series electronics for maximum interchangeability and easy service

Choose Lbs and Kgs or any (2) weight units including Lb/Oz split display

Easy to use - Easy to set-up - Easy to service

Two Year Warranty

Model
lb.
resolution
�
Platform
�
6200-10
10 lbs
0.002
�
12" x 14"
�
6200-25
25 lbs
0.005
�
12" x 14"
�
6200-50
50 lbs
0.01
�
12" x 14"
�
62600-100
100�lbs
0.02
�
12" x 14"
Tangent News
We have a new never used (or opened) Western MCLA High Pressure Reserve Medical Manifold for sale...