Equipment Sales
Testimonials
"We have been using Tangent Labs for calibration for close to 10 years now. I can always rely on Tangent to remind me when my gages require calibration. Trust me; with as many gages we use, this is a valuable service! They have always been on the spot when I have questions or need advice, and are always friendly and knowledgeable."
Audrey Watterson - Myers Spring Co.

MSI 4300 Port-A-Weigh Plus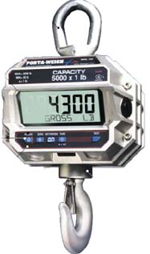 To create its flagship crane scale, MSI integrated the industry's most advanced electronics, two decades of marine and industrial application experience, and a set of features never before offered on a crane scale. The result is the MSI-4300 Porta-Weigh Plus. It is a Bronze Award winner of Plant Engineering magazine and is recognized as the world's premier crane scale.
Specified by such companies as ALCOA, General Electric, Union Carbide, and Boeing Airplane Co., MSI's model 4300 gained prominence because of its performance and acceptance on the job. It incorporates advanced electronics with enhanced digital filtering to yield accurate and stable readings on every job, every time.
No other crane scale offers you a standard feature set comparable to the Porta-Weigh Plus. Its unique features include: a Total Register for accumulating total weight and number of weighments, user-defined Set Points to indicate attainment of a target weight or overload, 10 presettable Tare Memories, and Peak Hold to capture and hold the highest applied load.
For operator convenience, MSI designed the Porta-Weigh Plus with a large liquid crystal display that features six-digit weight indication and light emitting diode (LED) backlighting. A secondary alphanumeric display, directly beneath the weight reading, annunciates the weigh mode and guides the user through calibration and setup.
The scale is powered by a rechargeable 12 volt sealed lead acid (SLA) battery that provides up to 300 hours of continuous use between charges.
Additional options include: infrared remote controller; audible alarm; RS232 data output and relay output to interface with computers, printers and process controllers, oversized top and bottom fittings, and alkaline battery power.
Please see the MSI-4300 specifications for standard product configuration and available options. Existing users, see Product Bulletin to learn about cost saving retrofit opportunities.
MSI quality products are sold and serviced worldwide by factory authorized distributors and backed by a full one year warranty.
Tangent News
We have a new never used (or opened) Western MCLA High Pressure Reserve Medical Manifold for sale...