Equipment Sales
Testimonials
"Your representative came in today to calibrate and I asked if he could do our chart recorders too. He was great and accommodated what I needed for the audit. We also got his annual food safety training completed. Great guy!"
Lisa Hughes - Bremner Food Group

MSI 4260 Port-A-Weigh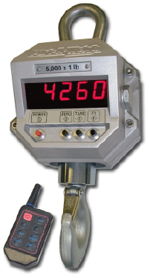 Industry's Original Standard for Accurate, Reliable and Safe Overhead Weighing
When introduced in 1980, the MSI-4260 "Port-A-Weigh" promptly established the original industry standard for an accurate, reliable and safe solution for overhead crane weighing and material handling. After decades of production, added technology advancements and thousands of worldwide installations, Port-A-Weigh continues to set the standard by which all other crane scales are measured.Simple and user friendly, the Port-A-Weigh crane scale family provides amazing versatility combined with an unrivaled standard feature set:
Rugged, Marine Grade 356 Alloy Cast Aluminum Enclosure Sealed to NEMA 4/IP 66

5 Digit, 1.2in (30mm) LED Display; visible from over 60ft (18.3m)

Sealed Front Panel Switches

100+ Hour Battery Life (battery charger included)

9 Standard Capacity Ranges Available

NTEP Legal for Trade Approved; up to 70,000lb (35,000kg)

Advanced 20 Bit A/D Converter and 16 Bit Processor

High Resolution (2,500-5,000 divisions standard, up to 10,000 available)

Full Digital Calibration (plus or minus 0.1% accuracy)

Auto-Off and Auto-Sleep Modes

Safety Service Counter (periodic inspection and maintenance reminders)

Programmable Features - Totalizing, Peak Hold, Set Points, Units, Filtering and Self-Test

Optional Full-Function RF Remote Controller

Optional Factory Mutual Approved Version (intrinsically safe for use in hazardous locations)

Please see the MSI-4260 specifications for standard product configuration and available options. For existing users of the
MSI-4260 Port-A-Weigh, learn about a cost saving product upgrade retrofit kit opportunities.
MSI quality products are sold and serviced worldwide by factory authorized distributors and backed by a full one year warranty.
Tangent News
We are excited to announce that as of January 2022, Tangent Labs is now a Transcat company!