Equipment Sales
Testimonials
"I am pleased to recommend Tangent Labs LLC to anyone in need of a highly professional and competent ISO-17025 registered firm. We have found Tangent to be a valuable partner and resource in our ongoing requirement to operate a QMS with reliable measurement data.
We have found their people to be highly competent and personable, their help- with metrology issues always available, and their pricing reasonable for the value provided.
After calibration activity is concluded, the QMS relies on the reports of that activity. Tangent Labs excels in this matter.; Their color reports are clear, accurate, and a joy to read for anyone concerned with measurement uncertainty and IM&TE status. This ISO-17025 certified lab also adds value-added service by making those reports accessible to us on their website in a secure manner. It is a very nice feeling to have this "back-up status" when we undergo our annual ISO/TS 16949 audit.
In the event we are in need of equipment, we know we can rely on Tangent for help in selecting the right equipment for the right measurement to assure quality.
I strongly recommend Tangent Labs LLC to anyone in search of a customer-oriented, internationally certified, calibration services firm."
Joseph T. Druecker - Heartland Automotive LLC

MSI 4260 Port-A-Weigh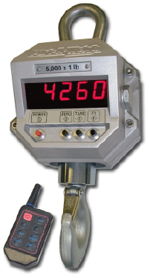 Industry's Original Standard for Accurate, Reliable and Safe Overhead Weighing
When introduced in 1980, the MSI-4260 "Port-A-Weigh" promptly established the original industry standard for an accurate, reliable and safe solution for overhead crane weighing and material handling. After decades of production, added technology advancements and thousands of worldwide installations, Port-A-Weigh continues to set the standard by which all other crane scales are measured.Simple and user friendly, the Port-A-Weigh crane scale family provides amazing versatility combined with an unrivaled standard feature set:
Rugged, Marine Grade 356 Alloy Cast Aluminum Enclosure Sealed to NEMA 4/IP 66

5 Digit, 1.2in (30mm) LED Display; visible from over 60ft (18.3m)

Sealed Front Panel Switches

100+ Hour Battery Life (battery charger included)

9 Standard Capacity Ranges Available

NTEP Legal for Trade Approved; up to 70,000lb (35,000kg)

Advanced 20 Bit A/D Converter and 16 Bit Processor

High Resolution (2,500-5,000 divisions standard, up to 10,000 available)

Full Digital Calibration (plus or minus 0.1% accuracy)

Auto-Off and Auto-Sleep Modes

Safety Service Counter (periodic inspection and maintenance reminders)

Programmable Features - Totalizing, Peak Hold, Set Points, Units, Filtering and Self-Test

Optional Full-Function RF Remote Controller

Optional Factory Mutual Approved Version (intrinsically safe for use in hazardous locations)

Please see the MSI-4260 specifications for standard product configuration and available options. For existing users of the
MSI-4260 Port-A-Weigh, learn about a cost saving product upgrade retrofit kit opportunities.
MSI quality products are sold and serviced worldwide by factory authorized distributors and backed by a full one year warranty.
Tangent News
We are excited to announce that as of January 2022, Tangent Labs is now a Transcat company!