Equipment Sales
Testimonials
"Mr Mathes was beyond professional, especially in light of the issues we had with the changes that we had made. I would like to thank him and Tangent for the excellent job and look forward to next year."
Doug Cherry - Life Science Logistics

MSI 3360 Challenger 2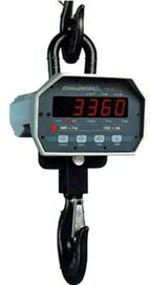 The MSI-3360 Challenger 2 may be the most popular crane scale in industry today!
The Challenger 2 provides the features and reliability you expect from industry's leading manufacturer of electronic crane scales. When you weigh quality and price, there is not a better value than the Challenger 2 for indoor weighing applications up to 7.5 tons.
Every Challenger 2 is NTEP approved for accuracy. Its advanced electronics offer you versatility with an unrivaled standard feature set that includes: Tare, Units switching, Totalizing, Peak Hold, Set Points, Filtering and a convenient lift-cycle counter. Mechanically, the Challenger 2 has proven itself through years of service. A rugged, low-profile enclosure minimizes headroom loss while maintaining weather resistance and portability. It also sets the standard for readability. With several annunciators and oversized 1.2 in/30 mm LED digits, you can read the display easily from more than 50 ft/15 m away.
MSI products are sold and serviced by a worldwide network of factory-authorized distributors and backed by a one-year warranty.
See the MSI-3360 specifications for standard product configuration and available options.
MSI quality products are sold and serviced worldwide by factory authorized distributors and backed by a full one year warranty.
Tangent News
We have a new never used (or opened) Western MCLA High Pressure Reserve Medical Manifold for sale...