Equipment Sales
Testimonials
"Thank you Tangent Labs!
Having just taken a new position with my company-I had a lot of challenges and even more questions. Tangent Labs has been a lifesaver for me! The services offered by your company have been extremely helpful. My calibrations, certifications and tracking system are now all up to date and easy to access! Thank you Tangent Labs!-But an even bigger Thank You to the people at Tangent Labs for all of their patience and help!"
Julann Main - American Keeper Corp.

MSI 3360 Challenger 2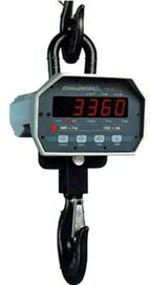 The MSI-3360 Challenger 2 may be the most popular crane scale in industry today!
The Challenger 2 provides the features and reliability you expect from industry's leading manufacturer of electronic crane scales. When you weigh quality and price, there is not a better value than the Challenger 2 for indoor weighing applications up to 7.5 tons.
Every Challenger 2 is NTEP approved for accuracy. Its advanced electronics offer you versatility with an unrivaled standard feature set that includes: Tare, Units switching, Totalizing, Peak Hold, Set Points, Filtering and a convenient lift-cycle counter. Mechanically, the Challenger 2 has proven itself through years of service. A rugged, low-profile enclosure minimizes headroom loss while maintaining weather resistance and portability. It also sets the standard for readability. With several annunciators and oversized 1.2 in/30 mm LED digits, you can read the display easily from more than 50 ft/15 m away.
MSI products are sold and serviced by a worldwide network of factory-authorized distributors and backed by a one-year warranty.
See the MSI-3360 specifications for standard product configuration and available options.
MSI quality products are sold and serviced worldwide by factory authorized distributors and backed by a full one year warranty.
Tangent News
We have a new never used (or opened) Western MCLA High Pressure Reserve Medical Manifold for sale...