Equipment Sales
Testimonials
"I am pleased to recommend Tangent Labs LLC to anyone in need of a highly professional and competent ISO-17025 registered firm. We have found Tangent to be a valuable partner and resource in our ongoing requirement to operate a QMS with reliable measurement data.
We have found their people to be highly competent and personable, their help- with metrology issues always available, and their pricing reasonable for the value provided.
After calibration activity is concluded, the QMS relies on the reports of that activity. Tangent Labs excels in this matter.; Their color reports are clear, accurate, and a joy to read for anyone concerned with measurement uncertainty and IM&TE status. This ISO-17025 certified lab also adds value-added service by making those reports accessible to us on their website in a secure manner. It is a very nice feeling to have this "back-up status" when we undergo our annual ISO/TS 16949 audit.
In the event we are in need of equipment, we know we can rely on Tangent for help in selecting the right equipment for the right measurement to assure quality.
I strongly recommend Tangent Labs LLC to anyone in search of a customer-oriented, internationally certified, calibration services firm."
Joseph T. Druecker - Heartland Automotive LLC

MSI 3360 Challenger 2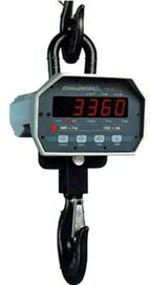 The MSI-3360 Challenger 2 may be the most popular crane scale in industry today!
The Challenger 2 provides the features and reliability you expect from industry's leading manufacturer of electronic crane scales. When you weigh quality and price, there is not a better value than the Challenger 2 for indoor weighing applications up to 7.5 tons.
Every Challenger 2 is NTEP approved for accuracy. Its advanced electronics offer you versatility with an unrivaled standard feature set that includes: Tare, Units switching, Totalizing, Peak Hold, Set Points, Filtering and a convenient lift-cycle counter. Mechanically, the Challenger 2 has proven itself through years of service. A rugged, low-profile enclosure minimizes headroom loss while maintaining weather resistance and portability. It also sets the standard for readability. With several annunciators and oversized 1.2 in/30 mm LED digits, you can read the display easily from more than 50 ft/15 m away.
MSI products are sold and serviced by a worldwide network of factory-authorized distributors and backed by a one-year warranty.
See the MSI-3360 specifications for standard product configuration and available options.
MSI quality products are sold and serviced worldwide by factory authorized distributors and backed by a full one year warranty.
Tangent News
We have a new never used (or opened) Western MCLA High Pressure Reserve Medical Manifold for sale...