Equipment Sales
Testimonials
"I am pleased to recommend Tangent Labs LLC to anyone in need of a highly professional and competent ISO-17025 registered firm. We have found Tangent to be a valuable partner and resource in our ongoing requirement to operate a QMS with reliable measurement data.
We have found their people to be highly competent and personable, their help- with metrology issues always available, and their pricing reasonable for the value provided.
After calibration activity is concluded, the QMS relies on the reports of that activity. Tangent Labs excels in this matter.; Their color reports are clear, accurate, and a joy to read for anyone concerned with measurement uncertainty and IM&TE status. This ISO-17025 certified lab also adds value-added service by making those reports accessible to us on their website in a secure manner. It is a very nice feeling to have this "back-up status" when we undergo our annual ISO/TS 16949 audit.
In the event we are in need of equipment, we know we can rely on Tangent for help in selecting the right equipment for the right measurement to assure quality.
I strongly recommend Tangent Labs LLC to anyone in search of a customer-oriented, internationally certified, calibration services firm."
Joseph T. Druecker - Heartland Automotive LLC

Mark-10 Series 5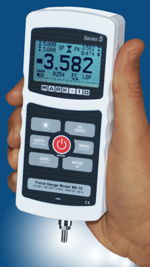 Series 5 advanced digital force gauges are designed for tension and compression force testing in numerous applications across virtually every industry, with capacities from 0.12 lb to 500 lb (0.5 N to 2500 N). The gauges feature an industry-leading sampling rate of 7,000 Hz, producing accurate results even for quick-action tests. Accuracy is 0.1% of full scale 1 digit, and resolution is 1/5000. A large, backlit graphics LCD displays large, legible characters, while the simple menu navigation allows for quick access to the gauges' many features and configurable parameters. Data can be transferred to a PC or other data collector via USB, RS-232, Mitutoyo (Digimatic), or analog outputs.
On-board data memory for up to 1,000 readings is included, as are statistical calculations and output to a PC. Integrated set points with indicators are ideal for pass-fail testing and for triggering external devices such as an alarm, relay, or test stand. The gauges are overload protected to 150% of capacity, and an analog load bar is shown on the display for graphical representation of applied force.
The Series 5's averaging mode addresses the need to record the average force over time, useful in applications such as peel testing, while external trigger mode makes switch activation testing simple and accurate. An ergonomic, reversible aluminum design allows for hand held use or test stand mounting for more sophisticated testing requirements.
Series 5 force gauges are directly compatible with Mark-10 test stands, grips, and software.
Models:
M5-012 0.12 lb x 0.00002 lbs
M5-025 0.25 lb x 0.00005 lbs
M5-05 2 lb x 0.0005 lbs
M5-2 5 lb x 0.001 lbs
M5-10 10 lb x 0.002 lbs
M5-20 20 lb x 0.005 lbs
M5-50 50 lb x 0.01 lbs
M5-100 100 lb x 0.02 lbs
M5-200 200 lb x 0.05 lbs
M5-500 500 lb x 0.1 lbs
Tangent News
We are excited to announce that as of January 2022, Tangent Labs is now a Transcat company!