Equipment Sales
Testimonials
"Thank you Tangent Labs!
I want to thank you for all the help and hanging in to get the job done. Even though you had to jump through hoops, everything came out great in the end. Thanks for your patience and help with all my questions."
Michael Jackson - Daicel Safety Systems America

LTS Fork Lift scales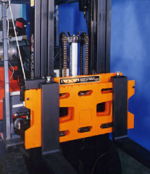 Accuracy: Digital accuracy to 1/10th of 1% of scale capacity with the lift truck mast in a level position (Note: An option is available that would automatically maintain this high degree of accuracy even in an out-of-level condition).
Durability: Filing Lift Truck Scales utilize a system of multiple flexures, which absorbs the constant shock of load-bearing while transferring the weight to a single-cell load mechanism. These critical elements have no moving parts, reducing the possibility of failure. Flexures are manufactured from 1095 hardened spring steel. This combined (flexure/single-cell) design provides superior load-sample linearity, as well as both heel-to-toe and fork-to-fork accuracy with greatly enhanced durability.
Serviceability: Flexures are designed for easy, on-the-spot replacement, thus eliminating costly downtime. Load cells are totally field replaceable, using customer maintenance personnel. Easy-to-follow instructions are packed with every unit, and are repeated with customer ownership packet.
Power Supply: Our DR2100 and DR2100A Electronic Indicators operate off of the existing forklift power from 12VDC to 48VDC. As an alternative LTS Scale can provide a battery pack system that will operate the scale and indicator independently of the lift truck's electrical system.
Ease of Installation: Conforming dimensionally to standard I.T.A. Specifications for Cleat - (hook) type lift trucks, Filing Scales attach readily to Class II, III, IV Carriages. The 10-step installation procedure is accomplished with ease in under two hours (Note: Installation of optional bar-mounted equipment may take longer). For details of installation procedure, refer to the "Installation Procedure" manual packed with each unit.
Warranty: 2 year parts and labor: Lifetime Loadcell warranty
| Model | Capacity | Carriage Class | Front Plate Dim. |
| --- | --- | --- | --- |
| LTEF-20 | 6000 x 2lb | III | 20" x 42" |
| LTEF-20-10k | 10,000 x 2lb | III | 20" x 42" |
| LTEF-20-10k | 10,000 x 2lb | III | 20" x 48" |
| XC04M-00 | 2500 lb | 1 lb | 20" x 48" |
| XC10M-00 | 5000 lb | 2 lb | 20" x 48" |
Tangent News
We are excited to announce that as of January 2022, Tangent Labs is now a Transcat company!