Equipment Sales
Testimonials
"I would like to express my appreciation for the great job that you and the Tangent Labs team performed for Praxair Surface Technologies last month. We needed to have a calibration certificate for a VWR pipette before our audit. Your service was really professional and we are going to use Tangent Labs in the future."
Marina Berezhnev - Praxair Surface Technologies Inc.

Lloyd LRX-Plus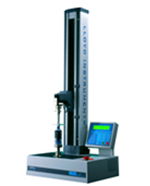 The LRXPlus testing machine is an affordable, easy to use system, ideal for material testing applications up to 5 kN (1124 lbf). The machine uses high accuracy interchangeable XLC Series loadcells for tension, compression and cycling through zero force measurements.
The LRXPlus features an integral control console with membrance multi-function keypad and easy to read backlit LCD to display load and extension information. The control console displays prompts and menus, which guide the user through machine operations.
The system is capable of storing up to 600 test results from a choice of 10 programmable test set-ups.
Simple to set up, operate and maintain

Load measuring system exceeds the requirements of all recognised international standards

Uses high accuracy interchangeable XLC loadcells (0.5% of reading)

Crosshead travel 735 mm (28.94 in)

Extended versions available with travel up to 1370 mm (53.94)

Speed range 0.01 - 1020 mm/min (0.004 to 40.16 in/min)

Load rate control

Data sampling rate 8 kHz

Saves up to 600 test results

10 programmable test set-ups

High resolution backlit LCD display with intuitive operator interface

Multi-lingual and multi-unit display options as standard

Flash memory upgradeable

Full PC integration with ISO TickIT accredited NEXYGEN MT data analysis software.

Tangent News
We have a new never used (or opened) Western MCLA High Pressure Reserve Medical Manifold for sale...