Equipment Sales
Testimonials
"Mr Mathes was beyond professional, especially in light of the issues we had with the changes that we had made. I would like to thank him and Tangent for the excellent job and look forward to next year."
Doug Cherry - Life Science Logistics

Lloyd LR5K-Plus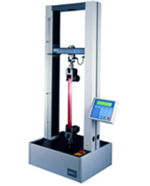 The LR5KPlus testing machine combines high performance, flexibility and exceptional ease of use. It is ideal for testing applications up to 5 kN (1124 lbf) and designed equally for routine quality control testing and for performing complex multi-stage tests. The machine uses high accuracy interchangeable XLC Series loadcells for tension, compression and cycling through zero force measurements.
The LR5KPlus is microprocessor controlled, incorporating world proven 32-bit technology for highly accurate load measurement and rapid data acquisition. It features an integral control console with membrane multi-function keypad and easy to read backlit LCD to display test and set-up information. The console displays prompts and menus, which guide the user through machine operations and features a choice of user selectable display languages and units.
The high stiffness frame incorporates a crosshead guidance system to prevent side loading of the test sample.
The stand alone system is capable of storing up to 600 test results from a choice of 10 programmable test set-ups.
Simple to set up, operate and maintain

Uses high accuracy interchangeable XLC loadcells (0.5% of reading)

Crosshead travel 975 mm (38.39 in)

Extended versions available with travel up to 1460 mm (57.48 in)

Speed range 0.01- 1020 mm/min (0.004 to 40.16 in/min)

Data sampling rate 8 kHz

Saves up to 600 test results

10 programmable test set-ups

High resolution backlit LCD display with intuitive operator interface

Multi-lingual and multi-unit display options as standard

Flash memory upgradeable

Can be mounted above floor standing compression cage for large sample/complete assembly testing

Full PC integration with ISO TickIT accredited NEXYGENTM MT data analysis software.

Tangent News
We are excited to announce that as of January 2022, Tangent Labs is now a Transcat company!