Equipment Sales
Testimonials
"I am pleased to recommend Tangent Labs LLC to anyone in need of a highly professional and competent ISO-17025 registered firm. We have found Tangent to be a valuable partner and resource in our ongoing requirement to operate a QMS with reliable measurement data.
We have found their people to be highly competent and personable, their help- with metrology issues always available, and their pricing reasonable for the value provided.
After calibration activity is concluded, the QMS relies on the reports of that activity. Tangent Labs excels in this matter.; Their color reports are clear, accurate, and a joy to read for anyone concerned with measurement uncertainty and IM&TE status. This ISO-17025 certified lab also adds value-added service by making those reports accessible to us on their website in a secure manner. It is a very nice feeling to have this "back-up status" when we undergo our annual ISO/TS 16949 audit.
In the event we are in need of equipment, we know we can rely on Tangent for help in selecting the right equipment for the right measurement to assure quality.
I strongly recommend Tangent Labs LLC to anyone in search of a customer-oriented, internationally certified, calibration services firm."
Joseph T. Druecker - Heartland Automotive LLC

Lloyd LR100K-Plus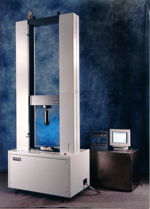 The LR100KPlus advanced materials testing machine incorporates an extensive range of features making it ideal for performing complex as well as routine testing applications up to 100 kN (22481 lbf). The LR100KPlus is a floor standing machine featuring a twin column design with a crosshead travel range of 1150 mm (45.3 in).
The machine is microprocessor controlled and incorporates world proven 32 bit technology for highly accurate load measurement and rapid data acquisition. The LR100KPlus features an integral user interface consisting of a side mounted control console with large, positive action membrane keys, allowing complex tests to be performed at the touch of a button. A back lit 4 line LCD display shows the test and set up information in a wide choice of user selectable languages and units.
The stand alone system is capable of storing up to 600 test results from a choice of ten programmable test set ups. Test parameters are entered using the keypad in a sequential menu driven format.
Simple to set up, operate and maintain

Floor standing model

Load measuring system exceeds the requirements of all recognised international standards

High accuracy load measurement (0.5% of reading)

Crosshead travel 1150 mm (45.3 in)

Speed range 0.001- 508 mm/min (0.00004 to 20 in/min)

Data sampling rate 8 kHz

High resolution backlit LCD display with intuitive operator interface

Multi-lingual and multi-unit display options as standard

Pre-loaded leadscrews

Large working width between columns

Tangent News
We have a new never used (or opened) Western MCLA High Pressure Reserve Medical Manifold for sale...