Equipment Sales
Testimonials
"I am pleased to recommend Tangent Labs LLC to anyone in need of a highly professional and competent ISO-17025 registered firm. We have found Tangent to be a valuable partner and resource in our ongoing requirement to operate a QMS with reliable measurement data.
We have found their people to be highly competent and personable, their help- with metrology issues always available, and their pricing reasonable for the value provided.
After calibration activity is concluded, the QMS relies on the reports of that activity. Tangent Labs excels in this matter.; Their color reports are clear, accurate, and a joy to read for anyone concerned with measurement uncertainty and IM&TE status. This ISO-17025 certified lab also adds value-added service by making those reports accessible to us on their website in a secure manner. It is a very nice feeling to have this "back-up status" when we undergo our annual ISO/TS 16949 audit.
In the event we are in need of equipment, we know we can rely on Tangent for help in selecting the right equipment for the right measurement to assure quality.
I strongly recommend Tangent Labs LLC to anyone in search of a customer-oriented, internationally certified, calibration services firm."
Joseph T. Druecker - Heartland Automotive LLC

Lloyd LF-Plus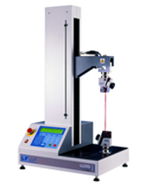 Large working area
Flexible work surface configurations

175mm (6.9 in) throat for large specimens

Flexible and accurate load measurements
Intuitive operator interface
Menu driven intelligent prompts

Membrane keypad with tactile feedback

Highly legible, backlit LCD display

Integral cabling
Motor servo control system
Flash memory upgradeable
Full PC integration with NEXYGENTM FM software
Load rate control
Constant load holding
The LFPlus Series digital testing machine is an easy to use solution for force measurement and material testing applications up to 1 kN (225 lbf) capacities. The machine uses interchangeable XLC Series loadcells or a digital force gauge as the measurement device. Tension and compression testing with cycling to load and extension limits are standard features. The machine can be equipped with a variety of accessories including: grips, fixtures, compression frames and extensometers.
The LFPlus features an innovative design that maximizes working space and simplifies operation and maintenance. The large work surface accommodates large specimens and can be specified with optional work surfaces for specialized fixtures or applications.
The LFPlus Series displays load and extension information on a highly legible LCD console with integral membrane keypad. The machine's intuitive firmware displays prompts and menus which guide an authorized user through machine operations. Users can choose from a range of display languages.
Capacity:
1 kN (225 lbf)
Crosshead Speed
0.05 to 1270mm/min
.002 to 50 in/min
Speed Accuracy
< 0.2%
Loadcell Accuracy:
�0.5% of reading
Extention Resolution:
Better than < 1.3 microns (0.0013 mm)
Standard Travel:
500mm (20 in)
Data Acquisition Rate:
80 kHz
Data Sampling Rate:
1000 Hz
Display:
40 character x 4 line backlit LCD
Inputs:
RS232 Serial Data
Digital and analogue Extensometer
Outputs:
RS232 Serial Data
Analogue 10Vdc max (optional)
Standard Languages:
English, Danish, Italian, French, German
Power:
115/230V ac 50-60Hz
Measuring System:
Exceeds the requirements of BS EN ISO 7500:1999.
Class 0.5 or Class1, ASTM E4, DIN 51221
(with XLC Loadcell)
Tangent News
We have a new never used (or opened) Western MCLA High Pressure Reserve Medical Manifold for sale...