Equipment Sales
Testimonials
"I would like to express to you that I believe your organization is one of the best I've ever worked with in providing quality service in a timely manner. Your employees are extremely professional and always willing to go above and beyond the call of duty to resolve any issues. Your staff is full of highly trained professionals and I'd like to personally say thank you for providing excellent service.
In closing I would just like to thank Tangent labs and its employees for providing exceptional service to Mossberg & Co. Quality Department. I would like to wish you good luck with your A2LA recertification but I'm sure you guys won't need it."
Bob Byers - Mossberg & Co.

Lloyd LF-Plus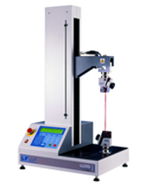 Large working area
Flexible work surface configurations

175mm (6.9 in) throat for large specimens

Flexible and accurate load measurements
Intuitive operator interface
Menu driven intelligent prompts

Membrane keypad with tactile feedback

Highly legible, backlit LCD display

Integral cabling
Motor servo control system
Flash memory upgradeable
Full PC integration with NEXYGENTM FM software
Load rate control
Constant load holding
The LFPlus Series digital testing machine is an easy to use solution for force measurement and material testing applications up to 1 kN (225 lbf) capacities. The machine uses interchangeable XLC Series loadcells or a digital force gauge as the measurement device. Tension and compression testing with cycling to load and extension limits are standard features. The machine can be equipped with a variety of accessories including: grips, fixtures, compression frames and extensometers.
The LFPlus features an innovative design that maximizes working space and simplifies operation and maintenance. The large work surface accommodates large specimens and can be specified with optional work surfaces for specialized fixtures or applications.
The LFPlus Series displays load and extension information on a highly legible LCD console with integral membrane keypad. The machine's intuitive firmware displays prompts and menus which guide an authorized user through machine operations. Users can choose from a range of display languages.
Capacity:
1 kN (225 lbf)
Crosshead Speed
0.05 to 1270mm/min
.002 to 50 in/min
Speed Accuracy
< 0.2%
Loadcell Accuracy:
�0.5% of reading
Extention Resolution:
Better than < 1.3 microns (0.0013 mm)
Standard Travel:
500mm (20 in)
Data Acquisition Rate:
80 kHz
Data Sampling Rate:
1000 Hz
Display:
40 character x 4 line backlit LCD
Inputs:
RS232 Serial Data
Digital and analogue Extensometer
Outputs:
RS232 Serial Data
Analogue 10Vdc max (optional)
Standard Languages:
English, Danish, Italian, French, German
Power:
115/230V ac 50-60Hz
Measuring System:
Exceeds the requirements of BS EN ISO 7500:1999.
Class 0.5 or Class1, ASTM E4, DIN 51221
(with XLC Loadcell)
Tangent News
We have a new never used (or opened) Western MCLA High Pressure Reserve Medical Manifold for sale...