Equipment Sales
Testimonials
"I would like to express to you that I believe your organization is one of the best I've ever worked with in providing quality service in a timely manner. Your employees are extremely professional and always willing to go above and beyond the call of duty to resolve any issues. Your staff is full of highly trained professionals and I'd like to personally say thank you for providing excellent service.
In closing I would just like to thank Tangent labs and its employees for providing exceptional service to Mossberg & Co. Quality Department. I would like to wish you good luck with your A2LA recertification but I'm sure you guys won't need it."
Bob Byers - Mossberg & Co.

Intercomp Pallet Scale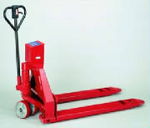 Integrated load cells to existing forks to weigh pallets on the go. Lowest profile at just 2.9 inches in lowered position ensures entrance to virtually all standard pallets. High accuracy with 1 lb. increments, gross, net, tare parts counting and weight accumulation features.
Units: Lb / Kg, Large easy to read .8" LED display, Function keys: TARE, LB/KG, ZERO, MODE, SET, ON, OFF. (9)D Cell alkaline batteries, up to 40 hours continuous use or optional rechargeable nickel cadmium batteries, Automatic shut off after 5 minutes of non-use (up to 30 minutes). 16 hour charge time. Features 2.9" lowered height and is 7.8" at the highest point. Accuracy +/- 0.1%, 1 Year Warranty. Ship Wt Approx: 300 lbs.
Battery Life: Up to 40 hours of continuous use
Batteries: 9 x D-size disposable alkaline dry cells or rechargeable nickel-cadmium cells (Not included)
Charge Time: 16 Hours
Charge: Charger/Power transformer - 110/220 VAC
Low Battery Shut-Off: Unit shuts off if batteries are low
Auto Shut-Off: Shuts off after up to 5 minutes of non-use (Variable up to 30 min.)
Display: 0.8 inch/20mm high - 5 1/2 digit light emitting diode (LED)
Indicators: Six (lb, kg, Net, Tare, Total, Count)
Control Switches: Eight (On, Off, Set, Mode, Print, Tare, Zero, lb/kg)
Tare - up to 100% of capacity
Zero - Up to 100% of capacity
Units - lb/kg
Push Button Print of Gross, Net, Tare, Total, and Count Total
Displays Gross, Net, and Tare Weight
Weight totalization up to 100,000 lb
Parts counting
Count totalization up to 100,000 counts
Adjustable baud rates from 75 to 9600
Selectable AZT off, .6, 1, or 3 graduations
Adjustable display update/weight averaging
Tangent News
We are excited to announce that as of January 2022, Tangent Labs is now a Transcat company!