Equipment Sales
Testimonials
"Thank you Tangent Labs!
I want to thank you for all the help and hanging in to get the job done. Even though you had to jump through hoops, everything came out great in the end. Thanks for your patience and help with all my questions."
Michael Jackson - Daicel Safety Systems America

Detecto 437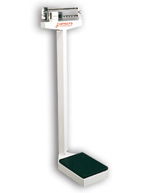 437 Eye-Level Physician Scale
Detecto's model 437 features a platform cover which is easily removed for cleaning. The die-cast beam can be easily read from either side.
Now available in 500 lb / 220 kg capacities by using the optional counterweights listed below!
Detecto continues to set the pace in the clinical scale industry, backed by over a century of leadership. Every Detecto physician scale features a time-honored reputation for rigid construction and precision engineering. This assures an unbeatably rugged product that guarantees accuracy and durability. All Detecto scales are tested with weights traceable to the U.S. Bureau of Standards.
437 Specifications
Capacity:
400 lb x 4 oz
Platform Size:
10 1/2" x 14 1/2" / 267 mm x 368 mm
Shipping Weight:
35 lb / 15.8 kg
Scale Height:
59" / 1.5 m
Tangent News
We have a new never used (or opened) Western MCLA High Pressure Reserve Medical Manifold for sale...