Equipment Sales
Testimonials
"Your representative came in today to calibrate and I asked if he could do our chart recorders too. He was great and accommodated what I needed for the audit. We also got his annual food safety training completed. Great guy!"
Lisa Hughes - Bremner Food Group

Cubiscan 50-PS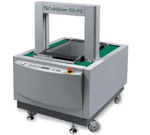 The Cubiscan 50-PS is the ideal tool for measuring the dimensions of pharmaceutical, apparel and health and beauty aid distribution applications where accurate cube and weight data is a critical part of slotting, picking, cartonization, and repacking functions. It is also a valuable tool in retail shelf-space allocation (planogramming). Using sophisticated photo-optic sensing technology, the 50-PS is able to measure a wide variety of irregular-shaped objects.
All CubiScan-collected data is stored in a user-friendly, Windows-based software package called QbitWinTM, and is easily transferred to a warehouse management system or computerized host.
The CubiScan 50-PS can help you accomplish big things in small-product cubing applications.
Tangent News
We have a new never used (or opened) Western MCLA High Pressure Reserve Medical Manifold for sale...