Equipment Sales
Testimonials
"I would like to express to you that I believe your organization is one of the best I've ever worked with in providing quality service in a timely manner. Your employees are extremely professional and always willing to go above and beyond the call of duty to resolve any issues. Your staff is full of highly trained professionals and I'd like to personally say thank you for providing excellent service.
In closing I would just like to thank Tangent labs and its employees for providing exceptional service to Mossberg & Co. Quality Department. I would like to wish you good luck with your A2LA recertification but I'm sure you guys won't need it."
Bob Byers - Mossberg & Co.

Cubiscan 50-PS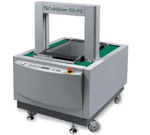 The Cubiscan 50-PS is the ideal tool for measuring the dimensions of pharmaceutical, apparel and health and beauty aid distribution applications where accurate cube and weight data is a critical part of slotting, picking, cartonization, and repacking functions. It is also a valuable tool in retail shelf-space allocation (planogramming). Using sophisticated photo-optic sensing technology, the 50-PS is able to measure a wide variety of irregular-shaped objects.
All CubiScan-collected data is stored in a user-friendly, Windows-based software package called QbitWinTM, and is easily transferred to a warehouse management system or computerized host.
The CubiScan 50-PS can help you accomplish big things in small-product cubing applications.
Tangent News
We have a new never used (or opened) Western MCLA High Pressure Reserve Medical Manifold for sale...