Equipment Sales
Testimonials
"I am pleased to recommend Tangent Labs LLC to anyone in need of a highly professional and competent ISO-17025 registered firm. We have found Tangent to be a valuable partner and resource in our ongoing requirement to operate a QMS with reliable measurement data.
We have found their people to be highly competent and personable, their help- with metrology issues always available, and their pricing reasonable for the value provided.
After calibration activity is concluded, the QMS relies on the reports of that activity. Tangent Labs excels in this matter.; Their color reports are clear, accurate, and a joy to read for anyone concerned with measurement uncertainty and IM&TE status. This ISO-17025 certified lab also adds value-added service by making those reports accessible to us on their website in a secure manner. It is a very nice feeling to have this "back-up status" when we undergo our annual ISO/TS 16949 audit.
In the event we are in need of equipment, we know we can rely on Tangent for help in selecting the right equipment for the right measurement to assure quality.
I strongly recommend Tangent Labs LLC to anyone in search of a customer-oriented, internationally certified, calibration services firm."
Joseph T. Druecker - Heartland Automotive LLC

Cubiscan 50-PS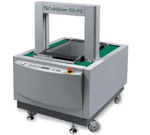 The Cubiscan 50-PS is the ideal tool for measuring the dimensions of pharmaceutical, apparel and health and beauty aid distribution applications where accurate cube and weight data is a critical part of slotting, picking, cartonization, and repacking functions. It is also a valuable tool in retail shelf-space allocation (planogramming). Using sophisticated photo-optic sensing technology, the 50-PS is able to measure a wide variety of irregular-shaped objects.
All CubiScan-collected data is stored in a user-friendly, Windows-based software package called QbitWinTM, and is easily transferred to a warehouse management system or computerized host.
The CubiScan 50-PS can help you accomplish big things in small-product cubing applications.
Tangent News
We have a new never used (or opened) Western MCLA High Pressure Reserve Medical Manifold for sale...