Equipment Sales
Testimonials
"Thank you Tangent Labs!
I want to thank you for all the help and hanging in to get the job done. Even though you had to jump through hoops, everything came out great in the end. Thanks for your patience and help with all my questions."
Michael Jackson - Daicel Safety Systems America

Cubiscan 50-PS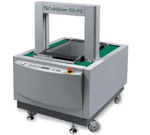 The Cubiscan 50-PS is the ideal tool for measuring the dimensions of pharmaceutical, apparel and health and beauty aid distribution applications where accurate cube and weight data is a critical part of slotting, picking, cartonization, and repacking functions. It is also a valuable tool in retail shelf-space allocation (planogramming). Using sophisticated photo-optic sensing technology, the 50-PS is able to measure a wide variety of irregular-shaped objects.
All CubiScan-collected data is stored in a user-friendly, Windows-based software package called QbitWinTM, and is easily transferred to a warehouse management system or computerized host.
The CubiScan 50-PS can help you accomplish big things in small-product cubing applications.
Tangent News
We have a new never used (or opened) Western MCLA High Pressure Reserve Medical Manifold for sale...