Equipment Sales
Testimonials
"I would like to express my appreciation for the great job that you and the Tangent Labs team performed for Praxair Surface Technologies last month. We needed to have a calibration certificate for a VWR pipette before our audit. Your service was really professional and we are going to use Tangent Labs in the future."
Marina Berezhnev - Praxair Surface Technologies Inc.

Cubiscan 50-PS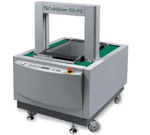 The Cubiscan 50-PS is the ideal tool for measuring the dimensions of pharmaceutical, apparel and health and beauty aid distribution applications where accurate cube and weight data is a critical part of slotting, picking, cartonization, and repacking functions. It is also a valuable tool in retail shelf-space allocation (planogramming). Using sophisticated photo-optic sensing technology, the 50-PS is able to measure a wide variety of irregular-shaped objects.
All CubiScan-collected data is stored in a user-friendly, Windows-based software package called QbitWinTM, and is easily transferred to a warehouse management system or computerized host.
The CubiScan 50-PS can help you accomplish big things in small-product cubing applications.
Tangent News
We are excited to announce that as of January 2022, Tangent Labs is now a Transcat company!