Equipment Sales
Testimonials
"We have been using Tangent Labs for calibration for close to 10 years now. I can always rely on Tangent to remind me when my gages require calibration. Trust me; with as many gages we use, this is a valuable service! They have always been on the spot when I have questions or need advice, and are always friendly and knowledgeable."
Audrey Watterson - Myers Spring Co.

Cubiscan 50-PS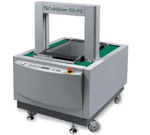 The Cubiscan 50-PS is the ideal tool for measuring the dimensions of pharmaceutical, apparel and health and beauty aid distribution applications where accurate cube and weight data is a critical part of slotting, picking, cartonization, and repacking functions. It is also a valuable tool in retail shelf-space allocation (planogramming). Using sophisticated photo-optic sensing technology, the 50-PS is able to measure a wide variety of irregular-shaped objects.
All CubiScan-collected data is stored in a user-friendly, Windows-based software package called QbitWinTM, and is easily transferred to a warehouse management system or computerized host.
The CubiScan 50-PS can help you accomplish big things in small-product cubing applications.
Tangent News
We are excited to announce that as of January 2022, Tangent Labs is now a Transcat company!