Equipment Sales
Testimonials
"Your representative came in today to calibrate and I asked if he could do our chart recorders too. He was great and accommodated what I needed for the audit. We also got his annual food safety training completed. Great guy!"
Lisa Hughes - Bremner Food Group

Cubiscan 30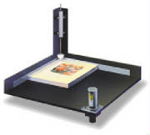 The CubiScan 30 is a dimensioning system specifically designed to measure the cube of smaller items like books, tapes and CDs. Its measuring and weighing tolerances are very accurate for high-precision applications. The 30 employs laser technology to measure length and width, a linear caliper -which gently compresses a book's cover - to assess thickness, and a high-resolution scale for weight readings. This information is commonly used by warehouse management system (WMS), load optimization, and case packing software.
All CubiScan-collected data is stored in a user-friendly, Windows-based software package called QbitWinTM, and is easily transferred to a warehouse management system or computerized host.
Improve your book distribution and order fulfillment processes with the CubiScan 30.
Physical Specifications
Length
17.5 in (445 mm)
Width
17.5 in (445 mm)
Height
12.0 in (305 mm)
Weight
22 lbs (10 kg)
Conveyor Height
N/A
Performance Specifications
Operating Speed
2-3 secs/measurement
Optional Variable Speed Control
N/A
Measurement Range
Length
1.0 in (25 mm) to 15.0 in (381 mm)
Width
1.0 in (25 mm) to 15.0 in (381 mm)
Height
0.125 in (3.175 mm) to 4.0 in (101.6 mm)
Measurement Increment
L & W - 0.02 in (0.5 mm)
H - 0.005 in (0.127 mm)
Minimum Weight
0.005 lbs (0.002 kg)
Weight Capacity
10 lbs (5 kg)
Weight Increment
0.005 lbs (0.002 kg)
Required Package Interval
N/A
Other
Measuring Sensor
Laser & linear caliper
Weight Sensor
Load cell
Data Output
EIA RS-232-C, bi-directional
Power Requirements
95 - 250 VAC, 47 - 63 Hz
Conveyor Method
N/A
Conveyor Direction
N/A
Humidity
0 - 90% non-condensing
Operating Temperature
N/A
Tangent News
We are excited to announce that as of January 2022, Tangent Labs is now a Transcat company!