Equipment Sales
Testimonials
"I am pleased to recommend Tangent Labs LLC to anyone in need of a highly professional and competent ISO-17025 registered firm. We have found Tangent to be a valuable partner and resource in our ongoing requirement to operate a QMS with reliable measurement data.
We have found their people to be highly competent and personable, their help- with metrology issues always available, and their pricing reasonable for the value provided.
After calibration activity is concluded, the QMS relies on the reports of that activity. Tangent Labs excels in this matter.; Their color reports are clear, accurate, and a joy to read for anyone concerned with measurement uncertainty and IM&TE status. This ISO-17025 certified lab also adds value-added service by making those reports accessible to us on their website in a secure manner. It is a very nice feeling to have this "back-up status" when we undergo our annual ISO/TS 16949 audit.
In the event we are in need of equipment, we know we can rely on Tangent for help in selecting the right equipment for the right measurement to assure quality.
I strongly recommend Tangent Labs LLC to anyone in search of a customer-oriented, internationally certified, calibration services firm."
Joseph T. Druecker - Heartland Automotive LLC

Cubiscan 150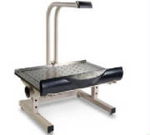 Tangent Labs proudly introduces the CubiScan 150 dimensioning system; a versatile tool for today's freight manifesting applications. Designed for use in distribution, direct fulfillment, and logistics environments, the 150 combines the attributes of flexibility, accuracy, and durability into one attractive and functional package.
The CubiScan 150 is robust, with a maximum measurement range of 3.3 x 3.3 x 4 feet (1 x 1 x 1.2 m) and a net weight capacity of 150 lbs (68 Kg). Yet it is precise, with a measurement resolution of 0.2 inches (50 mm) and weight resolution of 0.2 lbs (0.1 kg).
The CubiScan 150 dimensioning system is mounted on locking casters, so it can be operated in a fixed position or quickly moved and redeployed when necessary. Accessories include label printers, PC interface workstations, storage shelves, and several bar code scanning solution options.
Each unit has two active serial communication ports, one serial printer port with flow control, and includes an Ethernet port, allowing for network connection and remote diagnostics.
With an optional PC-based interface and Quantronix' proprietary software (called QbitWINTM), the CubiScan 150 is capable of buffering thousands of data records, can interface to bar code scanning and label printing devices, and can communicate directly (in batch or real-time mode) with mainframe or PC hosts.
Discover how quickly the CubiScan 150 can make a difference in the most important aspect of business; The Bottom Line.
Physical Specifications
Length
64 in (162 cm)
Width
52 in (132 cm)
Height
87 in (1221 cm)
Weight
660 lbs (300 kg)
Conveyor Height
N/A
Performance Specifications
Operating Speed
N/A
Optional Variable Speed Control
N/A
Measurement Range
Length
3 to 48 in (7.6 to 120 cm)
Width
2.4 to 40 in (6.1 to 100 cm)
Height
2.4 to 40 in (6.1 to 100 cm)
Measurement Increment
0.1 in (0.5 mm)
Minimum Weight
0.2 lbs (0.1 kg)
Weight Capacity
150 lbs (70 kg)
Weight Increment
0.2 lb (0.1kg)
Required Package Interval
N/A
Other
Measuring Sensor
Ultrasound (50KHz)
Weight Sensor
Resistive load cell
Data Output
ASCII
Power Requirements
95 - 240 VAC, 47 - 63 Hz, single phase
Conveyor Method
Roller ball table
Conveyor Direction
Omni-directional
Humidity
0 - 90% non-condensing
Operating Temperature
40 - 104 F (5 - 40 C)
Tangent News
We are excited to announce that as of January 2022, Tangent Labs is now a Transcat company!