Equipment Sales
Testimonials
"Thank you Tangent Labs!
I want to thank you for all the help and hanging in to get the job done. Even though you had to jump through hoops, everything came out great in the end. Thanks for your patience and help with all my questions."
Michael Jackson - Daicel Safety Systems America

Cubiscan 1200-AKL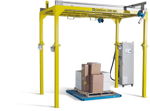 Call us today to find a fit for your application with this custom system.
Tangent News
We have a new never used (or opened) Western MCLA High Pressure Reserve Medical Manifold for sale...