Equipment Sales
Testimonials
"I just wanted to take a minute to thank you for your efforts with our LRK5. We got the board this morning and had it up and running this afternoon, huge relief. Really appreciate you working to have the board drop shipped to us and all the time you spent with trying to resolve the issue before we spent money on a new board."
Ray Young - Jaeger-Unitek Sealing Solutions

Cubiscan 100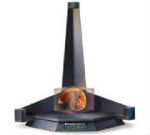 The CubiScan 100 is the most popular and versatile dimension scanning system offered by Quantronix. It facilitates storage location planning, order picking, re-pack, shipment planning, and freight manifesting activities, and is capable of gathering dimensions and weight on products as small as 0.5 inches and as large as 24 by 24 inches on length and width, and 36 inches on height. With a mobility pack, (which includes a battery and charger) the 100 becomes a completely portable workstation, allowing it to go to the freight rather than bringing freight to it.
The CubiScan 100 is a legal-for-trade certified device that allows shippers and carriers to manifest freight based on volume and weight, always applying the correct and optimal shipping charges.
All CubiScan-collected data is stored in a user-friendly, Windows-based software package called QbitWinTM, and is easily transferred to a warehouse management system or computerized host.
Physical Specifications
Length
32 in (813 mm)
Width
32 in (813 mm)
Height
48.0 in (1220 mm)
Weight
70 lbs (32 kg)
Conveyor Height
N/A
Performance Specifications
Operating Speed
1-2 secs/measurement
Optional Variable Speed Control
N/A
Measurement Range
Length
0.5 in (13 mm) to 24.0 in (610 mm)
Width
0.5 in (13 mm) to 24.0 in (610 mm)
Height
0.5 in (13 mm) to 36.0 in (914 mm)
Measurement Increment
0.1 in (3 mm) / *0.2 in (5 mm)
Minimum Weight
0.1 lbs (0.05 kg)
Weight Capacity
100 lbs (45 kg) / *201 lbs (91 kg)
Weight Increment
0.05 lbs (0.02 kg) / *0.1 lbs (0.05 kg)
Required Package Interval
N/A
Other
Measuring Sensor
Ultrasonic
Weight Sensor
Load cell
Data Output
EIA RS-232-C, bi-directional
Power Requirements
95 - 250 VAC, 47 - 63 Hz
Conveyor Method
N/A
Conveyor Direction
N/A
Humidity
0 - 90% non-condensing
Operating Temperature
40 - 104F (5-40 C)
Tangent News
We are excited to announce that as of January 2022, Tangent Labs is now a Transcat company!