Equipment Sales
Testimonials
"Tangent Labs was a logical choice to send equipment to be calibrated when our Lab was faced with a large amount of equipment to have calibrated. Our Lab had used Tangent Labs before and were always pleased with their service and caliber of work. It was a definite plus that they would pickup our equipment because shipping delicate equipment is always a concern. Their personnel are always courteous and prompt. Their turnaround time is fantastic and our equipment is always handled with care. They are able to accommodate priorities when necessary. Our Lab will continue to send equipment to Tangent Labs because they have earned the trust through the work that they perform and their customer service. There would be no hesitation on recommending Tangent Labs to anyone."
Lee Ann Kelly - Computer Science Corporation

CSE MR Series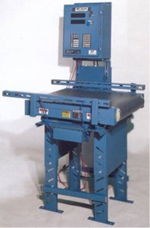 Features
Speeds from 30 to 200 ft/min

Advanced digital filtering minimizes the influence of vibrations

Rugged construction with built-in shock absorbers and overload protection

Field-adjustable scale parameters for rapid configuration

Slider bed belt design

End Drive roller with 4.5" Head and Tail Pulleys

Tower-mounted control enclosure with built-in GSE 660 Scale Indicator


Specifications
Height: 21" to 42", adjustable

Length: 30" to 72", in 6" increments

Width: 18", 24", 30" between side frames

115VAC, 1 phase, 60Hz

Capacity x Resolution: 50 lbs x 0.01 lbs, 100 lbs x 0.02 lbs

Tangent News
We have a new never used (or opened) Western MCLA High Pressure Reserve Medical Manifold for sale...