Equipment Sales
Testimonials
"I just wanted to let you know that I was very impressed with your technicians today. They were very professional and polite. Thanks again!"
Alyssa Mahlke - Endocyte Inc.

CSE MR Series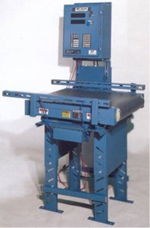 Features
Speeds from 30 to 200 ft/min

Advanced digital filtering minimizes the influence of vibrations

Rugged construction with built-in shock absorbers and overload protection

Field-adjustable scale parameters for rapid configuration

Slider bed belt design

End Drive roller with 4.5" Head and Tail Pulleys

Tower-mounted control enclosure with built-in GSE 660 Scale Indicator


Specifications
Height: 21" to 42", adjustable

Length: 30" to 72", in 6" increments

Width: 18", 24", 30" between side frames

115VAC, 1 phase, 60Hz

Capacity x Resolution: 50 lbs x 0.01 lbs, 100 lbs x 0.02 lbs

Tangent News
We are excited to announce that as of January 2022, Tangent Labs is now a Transcat company!