Equipment Sales
Testimonials
"Thank you Tangent Labs!
Having just taken a new position with my company-I had a lot of challenges and even more questions. Tangent Labs has been a lifesaver for me! The services offered by your company have been extremely helpful. My calibrations, certifications and tracking system are now all up to date and easy to access! Thank you Tangent Labs!-But an even bigger Thank You to the people at Tangent Labs for all of their patience and help!"
Julann Main - American Keeper Corp.

CSE MR Series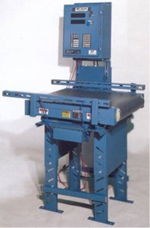 Features
Speeds from 30 to 200 ft/min

Advanced digital filtering minimizes the influence of vibrations

Rugged construction with built-in shock absorbers and overload protection

Field-adjustable scale parameters for rapid configuration

Slider bed belt design

End Drive roller with 4.5" Head and Tail Pulleys

Tower-mounted control enclosure with built-in GSE 660 Scale Indicator


Specifications
Height: 21" to 42", adjustable

Length: 30" to 72", in 6" increments

Width: 18", 24", 30" between side frames

115VAC, 1 phase, 60Hz

Capacity x Resolution: 50 lbs x 0.01 lbs, 100 lbs x 0.02 lbs

Tangent News
We have a new never used (or opened) Western MCLA High Pressure Reserve Medical Manifold for sale...