Equipment Sales
Testimonials
"Tangent Labs was a logical choice to send equipment to be calibrated when our Lab was faced with a large amount of equipment to have calibrated. Our Lab had used Tangent Labs before and were always pleased with their service and caliber of work. It was a definite plus that they would pickup our equipment because shipping delicate equipment is always a concern. Their personnel are always courteous and prompt. Their turnaround time is fantastic and our equipment is always handled with care. They are able to accommodate priorities when necessary. Our Lab will continue to send equipment to Tangent Labs because they have earned the trust through the work that they perform and their customer service. There would be no hesitation on recommending Tangent Labs to anyone."
Lee Ann Kelly - Computer Science Corporation

Chatillon TCD-225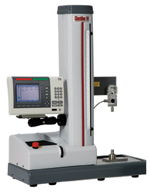 The Chatillon TCD225 Series is an advanced force testing system optimized for production, quality control and engineering applications. The TCD225 Series is our mid-range tester compared to the smaller TCD110 Series (110 lbf, 500N) or larger TCD1100 Series (1124 lbf, 5 kN). The TCD System consists of a powerful, yet easy-to-use console; a rugged frame with high performance, closed-loop motion control; and an intelligent load sensing system with measuring accuracies better than 0.1% full scale. The TCD console features a high resolution color graphical display featuring menus, function and numeric keys and status indicators that assist the user in setup, operation and analysis. Information may be displayed in large-format tabular and graphical formats for easy viewing. The frame operates from 0.001 to 50.0-inches per minute (0.02 to 1270 mm/minute) and employs an advanced closed-loop PID controller for precision travel (accuracy better than 0.25% unloaded), ideal for applications such as spring testing where exact distance control is required. The TCD System permits the user to measure heights based on a datum or absolute position. Deflection compensation is standard. Standard test setups for load limits, distance limits, time limits, break tests, rupture tests, cycling and loop tests are included. No Computers. No Software. No Compromises.
Force Capacity
Features
Advanced, Simple to Use Test Setups that You Create Graphically


- Limit Testing (Load, Distance, Time)
- Break & Rupture Testing
- Cyclic & Loop Testing (Time or Count)
- Multi-Stage/User Defined Testing per ISO and ASTM Specifications
- Open Architecture Does not require computers or proprietary software applications!

Use for Height Measurement


- Ideal for Accurate Spring Testing

Advanced Operator Interface based on Metronics Gage Chek Architecture


- Simple Operation with Templates, Menus & Prompts
- Tabular & Graphical Results including embedded SPC
- Multiple Display Languages- English, Spanish, Portuguese, French, German, Italian, Chinese (Simplified), Chinese (Traditional), Korean, Russian, Turkish, and more

Data Acquisition at full 1000 Samples per Second (user-selectable from 1 to 1000Hz)


- Save Data to USB Drive
- Direct Import into Excel or other OLE2 Compatible Applications

Ultimate Security


- Save Tests and Operate from USB Flash Drive
- Create Tests and Upload into Production Machines
- Use Bar Code Scanner to Automatically Call a Test for the Authorized User
- Save and Transfer Raw Data, Results, Test Setups using USB Flash Drive

Specification
Measurement Accuracy: Better than 0.1% Full Scale

Speed: 0.001 to 50 in/min (0.02 to 1270 mm/min)


- Independent Speeds for all stages within a Test Setup

Load Measurement System

Chatillon TLC Series Load Cells


- Automatic Sensor Recognition
- Overload History Reporting
Tangent News
We are excited to announce that as of January 2022, Tangent Labs is now a Transcat company!