Equipment Sales
Testimonials
"I just wanted to take a minute to thank you for your efforts with our LRK5. We got the board this morning and had it up and running this afternoon, huge relief. Really appreciate you working to have the board drop shipped to us and all the time you spent with trying to resolve the issue before we spent money on a new board."
Ray Young - Jaeger-Unitek Sealing Solutions

Chatillon MT-150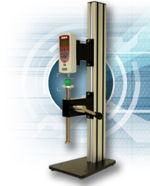 The Chatillon MT-150 Series mechanical test stands are an ideal solution for tensile and compression testing up to 150 lbf (660N) capacities. Combine with a Chatillon force gauge for an economical, manual testing system perfect for the production floor or lab. The MT-150 testers feature an innovative, modular design that maximizes working space while simplifying operation and maintenance. Testers may be equipped with a quick-action lever or precision handwheel for controlling crosshead speed and travel. MT Testers can be bench mounted, wall mounted or positioned horizontally. The MT Series testers include hooks, compression plates, adapters and gauge mounting hardware.
Force Capacity
Features
Modular Architecture

Lever or Handwheel Activation

Multiple Column�Heights (750mm, 100mm and 1500mm)

Horizontal, Vertical or Wall Mounting

Lightweight & Portable

Tangent News
We have a new never used (or opened) Western MCLA High Pressure Reserve Medical Manifold for sale...