Equipment Sales
Testimonials
"I am pleased to recommend Tangent Labs LLC to anyone in need of a highly professional and competent ISO-17025 registered firm. We have found Tangent to be a valuable partner and resource in our ongoing requirement to operate a QMS with reliable measurement data.
We have found their people to be highly competent and personable, their help- with metrology issues always available, and their pricing reasonable for the value provided.
After calibration activity is concluded, the QMS relies on the reports of that activity. Tangent Labs excels in this matter.; Their color reports are clear, accurate, and a joy to read for anyone concerned with measurement uncertainty and IM&TE status. This ISO-17025 certified lab also adds value-added service by making those reports accessible to us on their website in a secure manner. It is a very nice feeling to have this "back-up status" when we undergo our annual ISO/TS 16949 audit.
In the event we are in need of equipment, we know we can rely on Tangent for help in selecting the right equipment for the right measurement to assure quality.
I strongly recommend Tangent Labs LLC to anyone in search of a customer-oriented, internationally certified, calibration services firm."
Joseph T. Druecker - Heartland Automotive LLC

Chatillon LTCM-500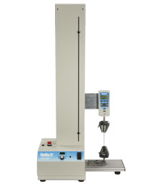 The Chatillon LTCM-500 Series motorized tester, combined with a Chatillon gauge, is perfect for applications requiring an economical solution to tensile or compression testing up to 550 lbf (2500N). A large working are and 5-inch (130mm) throat and long 29.5-inch (750mm) travel is ideal for tensile, compression, flexural, shear and peel testing. Tester includes mechanical and digital load limits that can be used to control crosshead movement, e.g. stop the crosshead when a load limit is achieved. An innovative T-Slot work surface ensures proper centerline alignment and fast fixture setup. An optional expanded work table is ideal for very large samples with diameters over 10-inches (250mm). Controls are simple and intuitive making it ideal for production environments. An optional footswitch can be used for "hands-free operation" and used to control crosshead movement. An optional splinter shield is also available.
Force Capacity
Travel Length
Features
Selectable Speed Control with LED Indicator

0.2 to 20.0 inch/min

5.0 to 500 mm/min

Independent Return Speed

Mechanical Deflection Limits

Digital Load Limits

T-Slot Work Table for Easy, Fast Fixture Setup

Optional Accessories


- Expanded Work Table
- Remote Footswitch Crosshead Controller
- Mechanical Splinter Shield

Portable, Benchtop Design

Load Measurement System
Chatillon DF Series DigitalForce Gauges
Tangent News
We have a new never used (or opened) Western MCLA High Pressure Reserve Medical Manifold for sale...