Equipment Sales
Testimonials
"Your representative came in today to calibrate and I asked if he could do our chart recorders too. He was great and accommodated what I needed for the audit. We also got his annual food safety training completed. Great guy!"
Lisa Hughes - Bremner Food Group

Chatillon LTCM-500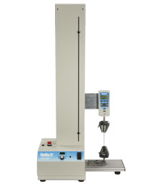 The Chatillon LTCM-500 Series motorized tester, combined with a Chatillon gauge, is perfect for applications requiring an economical solution to tensile or compression testing up to 550 lbf (2500N). A large working are and 5-inch (130mm) throat and long 29.5-inch (750mm) travel is ideal for tensile, compression, flexural, shear and peel testing. Tester includes mechanical and digital load limits that can be used to control crosshead movement, e.g. stop the crosshead when a load limit is achieved. An innovative T-Slot work surface ensures proper centerline alignment and fast fixture setup. An optional expanded work table is ideal for very large samples with diameters over 10-inches (250mm). Controls are simple and intuitive making it ideal for production environments. An optional footswitch can be used for "hands-free operation" and used to control crosshead movement. An optional splinter shield is also available.
Force Capacity
Travel Length
Features
Selectable Speed Control with LED Indicator

0.2 to 20.0 inch/min

5.0 to 500 mm/min

Independent Return Speed

Mechanical Deflection Limits

Digital Load Limits

T-Slot Work Table for Easy, Fast Fixture Setup

Optional Accessories


- Expanded Work Table
- Remote Footswitch Crosshead Controller
- Mechanical Splinter Shield

Portable, Benchtop Design

Load Measurement System
Chatillon DF Series DigitalForce Gauges
Tangent News
We have a new never used (or opened) Western MCLA High Pressure Reserve Medical Manifold for sale...