Equipment Sales
Testimonials
"Tangent Labs was quick to respond to an urgent calibration need. Their technicians arrived at the appointed time, were neat in appearance and were very professional and knowledgeable.
Calibration documents are complete and easy to understand. Tangent will be getting all of our outsourced calibration business in the future."
Cindy Berghoff - Precision Plastics

Chatillon LTCM-100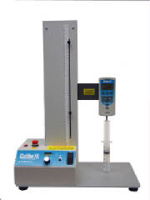 The Chatillon LTCM-100 Series motorized tester, combined with a Chatillon gauge, is perfect for applications requiring an economical solution to tensile or compression testing. The LTCM-100 motorized test stand has a large workarea making it ideal for production environment or applications with large test samples. Crosshead movement is operator controlled using a switch that can be set to move the crosshead up or down at a specified speed. Speed is user-selectable. Positive braking and high and low limits are standard.
Force Capacity
Features
Selectable Speed Control with LED Indicator


0.2 to 20.0 inch/min
5.0 to 500 mm/min

Independent Return Speed

Mechanical Deflection Limits

15-inches (380mm) Travel

Large Working Area

Lightweight, Portable Design

Load Measurement System
Chatillon Force Gauges
The LTCM-100 replaces the following motorized testers:
- Chatillon LTCM-6
- Chatillon LTCM-6e
Tangent News
We have a new never used (or opened) Western MCLA High Pressure Reserve Medical Manifold for sale...