Equipment Sales
Testimonials
"Tangent Labs was a logical choice to send equipment to be calibrated when our Lab was faced with a large amount of equipment to have calibrated. Our Lab had used Tangent Labs before and were always pleased with their service and caliber of work. It was a definite plus that they would pickup our equipment because shipping delicate equipment is always a concern. Their personnel are always courteous and prompt. Their turnaround time is fantastic and our equipment is always handled with care. They are able to accommodate priorities when necessary. Our Lab will continue to send equipment to Tangent Labs because they have earned the trust through the work that they perform and their customer service. There would be no hesitation on recommending Tangent Labs to anyone."
Lee Ann Kelly - Computer Science Corporation

Chatillon LTCM-100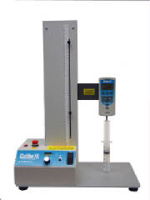 The Chatillon LTCM-100 Series motorized tester, combined with a Chatillon gauge, is perfect for applications requiring an economical solution to tensile or compression testing. The LTCM-100 motorized test stand has a large workarea making it ideal for production environment or applications with large test samples. Crosshead movement is operator controlled using a switch that can be set to move the crosshead up or down at a specified speed. Speed is user-selectable. Positive braking and high and low limits are standard.
Force Capacity
Features
Selectable Speed Control with LED Indicator


0.2 to 20.0 inch/min
5.0 to 500 mm/min

Independent Return Speed

Mechanical Deflection Limits

15-inches (380mm) Travel

Large Working Area

Lightweight, Portable Design

Load Measurement System
Chatillon Force Gauges
The LTCM-100 replaces the following motorized testers:
- Chatillon LTCM-6
- Chatillon LTCM-6e
Tangent News
We are excited to announce that as of January 2022, Tangent Labs is now a Transcat company!