Equipment Sales
Testimonials
"We have been using Tangent Labs for calibration for close to 10 years now. I can always rely on Tangent to remind me when my gages require calibration. Trust me; with as many gages we use, this is a valuable service! They have always been on the spot when I have questions or need advice, and are always friendly and knowledgeable."
Audrey Watterson - Myers Spring Co.

Chatillon LTCM-100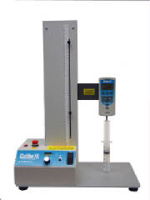 The Chatillon LTCM-100 Series motorized tester, combined with a Chatillon gauge, is perfect for applications requiring an economical solution to tensile or compression testing. The LTCM-100 motorized test stand has a large workarea making it ideal for production environment or applications with large test samples. Crosshead movement is operator controlled using a switch that can be set to move the crosshead up or down at a specified speed. Speed is user-selectable. Positive braking and high and low limits are standard.
Force Capacity
Features
Selectable Speed Control with LED Indicator


0.2 to 20.0 inch/min
5.0 to 500 mm/min

Independent Return Speed

Mechanical Deflection Limits

15-inches (380mm) Travel

Large Working Area

Lightweight, Portable Design

Load Measurement System
Chatillon Force Gauges
The LTCM-100 replaces the following motorized testers:
- Chatillon LTCM-6
- Chatillon LTCM-6e
Tangent News
We are excited to announce that as of January 2022, Tangent Labs is now a Transcat company!