Equipment Sales
Testimonials
"Tangent Labs was quick to respond to an urgent calibration need. Their technicians arrived at the appointed time, were neat in appearance and were very professional and knowledgeable.
Calibration documents are complete and easy to understand. Tangent will be getting all of our outsourced calibration business in the future."
Cindy Berghoff - Precision Plastics

Chatillon DG Series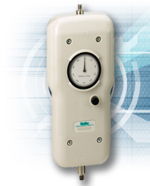 The Chatillon DG Series mechanical force gauge is ideal for tensile or compression force measurement applications up to 500 lbf, 250 kgf or 2500 N. This unidirectional force gauge has one end dedicated to tensile tests and the other dedicated to compressive tests. The gauge features a large 2-1/4-inch dial which rotates 360-degrees for taring. A peak hold button is easy to use- it holds the pointer at the peak load. The DG Series has a force measurement accuracy of better than 0.5% full scale and included mechanical overload protection. The gauge is available in lbf, kgf and N units. The gauge comes with a Certificate of Calibration with NIST data, accessories and carrying case.
Standard Gauge Measurement Functions
Tensile Load (one direction dedicated to pull)

Compression Load (one direction dedicated to push)

Peak Tension or Compression Load (switch activated)

Model
Capacity
Model
Capacity
Model
Capacity
DG-200
200 lb x 1.0 lb
DG-100KG
100 kg x 0.5 kg
DG-1000N
1000 N x 5 N
DG300
300 lb x 1.5 lb
DG-250KG
250 kg x 1.25 kg
DG-2500N
2500 N x 12.5 N
DG-400
400 lb x 2.0 lb
DG-500
500 lb x 2.5 lb
Tangent News
We have a new never used (or opened) Western MCLA High Pressure Reserve Medical Manifold for sale...