Equipment Sales
Testimonials
"I am pleased to recommend Tangent Labs LLC to anyone in need of a highly professional and competent ISO-17025 registered firm. We have found Tangent to be a valuable partner and resource in our ongoing requirement to operate a QMS with reliable measurement data.
We have found their people to be highly competent and personable, their help- with metrology issues always available, and their pricing reasonable for the value provided.
After calibration activity is concluded, the QMS relies on the reports of that activity. Tangent Labs excels in this matter.; Their color reports are clear, accurate, and a joy to read for anyone concerned with measurement uncertainty and IM&TE status. This ISO-17025 certified lab also adds value-added service by making those reports accessible to us on their website in a secure manner. It is a very nice feeling to have this "back-up status" when we undergo our annual ISO/TS 16949 audit.
In the event we are in need of equipment, we know we can rely on Tangent for help in selecting the right equipment for the right measurement to assure quality.
I strongly recommend Tangent Labs LLC to anyone in search of a customer-oriented, internationally certified, calibration services firm."
Joseph T. Druecker - Heartland Automotive LLC

Chatillon DFX II Series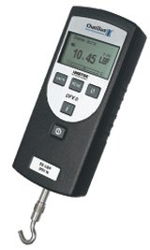 The CHATILLON DFX II Series is an economical digital force gauge ideal for applications where users are interested in basic peak force measurement.
The DFX II is available in four capacities (10 lbf, 50 lbf, 100 lbf, 200 lbf) and features an integral load cell with a measurement accuracy of better than 0.3% FS. The DFX II Series operates using a rechargeable NiMH battery pack and can also operate using the supplied universal charger. The battery eliminator is supplied with a US, UK and EURO style plug. Under battery operation, the DFX II Series will operate for over 70-100 hours of continuous use.
A large, easy-to-read, high resolution dot matrix LCD display supports a variety of standard gauge functions including normal and peak readings. Loads are displayed in ozf, gf, lbf, kgf and N units. The display language may be set up to indicate in English, Spanish, French, German, Portuguese and Chinese.
The DFX II Series calibration procedure is included in the gauge's setup. DFX II Series force gauges come with a carrying case, battery universal battery charger, flat and hook adapters. The DFX II Series is supplied with an optional Certificate of Calibration with NIST data.
---
Features & Benefits
Four Models Available - 10 lbf, 50 lbf, 100 lbf, and 200 lbf

Normal and Peak Operating Modes

Selectable Units of Measurement - ozf, gf, lbf, kgf and N

Measurement Accuracy 0.3% FS

Mechanical Overload Protection to 150% FS

Simple Operator Interface

Selectable Display Languages - English, Spanish, French, German, Portuguese and Chinese

Battery Operated with Automatic Shutoff Power Saver providing 70-100 Hours of Continuous Use

Supplied with standard Certificate of Conformance

1 Year Warranty

Tangent News
We have a new never used (or opened) Western MCLA High Pressure Reserve Medical Manifold for sale...