Equipment Sales
Testimonials
"I am pleased to recommend Tangent Labs LLC to anyone in need of a highly professional and competent ISO-17025 registered firm. We have found Tangent to be a valuable partner and resource in our ongoing requirement to operate a QMS with reliable measurement data.
We have found their people to be highly competent and personable, their help- with metrology issues always available, and their pricing reasonable for the value provided.
After calibration activity is concluded, the QMS relies on the reports of that activity. Tangent Labs excels in this matter.; Their color reports are clear, accurate, and a joy to read for anyone concerned with measurement uncertainty and IM&TE status. This ISO-17025 certified lab also adds value-added service by making those reports accessible to us on their website in a secure manner. It is a very nice feeling to have this "back-up status" when we undergo our annual ISO/TS 16949 audit.
In the event we are in need of equipment, we know we can rely on Tangent for help in selecting the right equipment for the right measurement to assure quality.
I strongly recommend Tangent Labs LLC to anyone in search of a customer-oriented, internationally certified, calibration services firm."
Joseph T. Druecker - Heartland Automotive LLC

Chatillon DFS II Series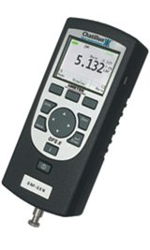 The Chatillon DFS II Series offers the best price performance of any digital force gauge available today. Our brand new DFS II Series of Digital Force Gauges is the first of their type to offer wireless data transfer and comminicaton via integral Bluetooth.
This compact, easy-to-use force gauge is designed for basic and complex applications. Ideal for handheld or test stand applications, the DFS II may be equipped with integral load cells or smart remote sensors for load measurement or torque measurement. Measurement accuracy is better than 0.1% full scale in integral load cell or dedicated remote models.
A large, easy-to-read, high resolution, full color dot matrix LCD display supports a variety of standard gauge functions including normal and peak readings, high/low limits, set points, pass/fail results, statistical results, load averaging, load comparisons, % and sharp break detection, loadcell actuation and direction. Loads are displayed in ozf, gf, lbf, kgf and N units. The display can be inverted and displayed results may be hidden from the operator. The DFS II offers password protection for gauge set ups.
Features & Benefits
Wireless Data Transfer Via Integral Bluetooth Communications

Normal and Peak Operating Modes

Advanced Functions -


Load Limits
Pass/Fail
Load Averaging
Load Comparison
Break Detection
Contact Closure
Embedded SPC
Analog, Digital and Mitutoyo Outputs
Display and Output Filtering
Overload History

Integral Load Cell


Better than 0.1% FS Accuracy
Mechanical Overload Protection to 150% FS

Remote Load Cell


Dedicated - Better than 0.1% Accuracy
Non-Dedicated - Better than 0.25% Accuracy
Torque Sensor - Better than 0.3% Accuracy

Simple User Interface

Selectable Display Languages - English, Spanish, French, German, Portuguese and Chinese

NIST Calibration with Data

1 Year Warranty

Tangent News
We have a new never used (or opened) Western MCLA High Pressure Reserve Medical Manifold for sale...