Equipment Sales
Testimonials
"Tangent Labs was quick to respond to an urgent calibration need. Their technicians arrived at the appointed time, were neat in appearance and were very professional and knowledgeable.
Calibration documents are complete and easy to understand. Tangent will be getting all of our outsourced calibration business in the future."
Cindy Berghoff - Precision Plastics

Chatillon DFS II Series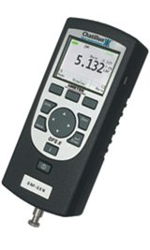 The Chatillon DFS II Series offers the best price performance of any digital force gauge available today. Our brand new DFS II Series of Digital Force Gauges is the first of their type to offer wireless data transfer and comminicaton via integral Bluetooth.
This compact, easy-to-use force gauge is designed for basic and complex applications. Ideal for handheld or test stand applications, the DFS II may be equipped with integral load cells or smart remote sensors for load measurement or torque measurement. Measurement accuracy is better than 0.1% full scale in integral load cell or dedicated remote models.
A large, easy-to-read, high resolution, full color dot matrix LCD display supports a variety of standard gauge functions including normal and peak readings, high/low limits, set points, pass/fail results, statistical results, load averaging, load comparisons, % and sharp break detection, loadcell actuation and direction. Loads are displayed in ozf, gf, lbf, kgf and N units. The display can be inverted and displayed results may be hidden from the operator. The DFS II offers password protection for gauge set ups.
Features & Benefits
Wireless Data Transfer Via Integral Bluetooth Communications

Normal and Peak Operating Modes

Advanced Functions -


Load Limits
Pass/Fail
Load Averaging
Load Comparison
Break Detection
Contact Closure
Embedded SPC
Analog, Digital and Mitutoyo Outputs
Display and Output Filtering
Overload History

Integral Load Cell


Better than 0.1% FS Accuracy
Mechanical Overload Protection to 150% FS

Remote Load Cell


Dedicated - Better than 0.1% Accuracy
Non-Dedicated - Better than 0.25% Accuracy
Torque Sensor - Better than 0.3% Accuracy

Simple User Interface

Selectable Display Languages - English, Spanish, French, German, Portuguese and Chinese

NIST Calibration with Data

1 Year Warranty

Tangent News
We are excited to announce that as of January 2022, Tangent Labs is now a Transcat company!