Equipment Sales
Testimonials
"I would like to express to you that I believe your organization is one of the best I've ever worked with in providing quality service in a timely manner. Your employees are extremely professional and always willing to go above and beyond the call of duty to resolve any issues. Your staff is full of highly trained professionals and I'd like to personally say thank you for providing excellent service.
In closing I would just like to thank Tangent labs and its employees for providing exceptional service to Mossberg & Co. Quality Department. I would like to wish you good luck with your A2LA recertification but I'm sure you guys won't need it."
Bob Byers - Mossberg & Co.

Chatillon DFE II Series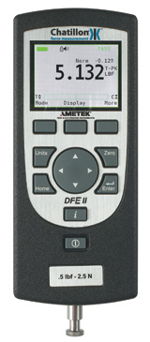 The Chatillon DFE II Series marks a new era in digital force
measurement. This compact, easy-to-use force gauge is designed for economy applications without compromising functionality. Ideal for hand held or test stand applications. The DFE II Series is available with capacities from 2 lbf (10 N) to 500 lbf (2500 N).
The DFE II features an integral load cell with a measurement accuracy of better than 0.25% FS. A large, easy-to-read, high resolution dot matrix LCD full color display supports a variety of standard gauge functions including normal and peak readings, high/low limits, set points, pass/fail results, statistical results, load cell actuation and direction. Loads are displayed in ozf, gf, lbf, kgf and N units. The display can be inverted and displayed results may be hidden from the operator.
The DFE II now also includes multiple language interfaces. The force gauge is able to change the display language from English to Spanish, French, German, Portuguese, and Chinese. The user can view the screen in color and a local language.
All DFE II Series force gauges come with a carrying case, battery adapter/ charger, testing accessories, RS232 cable and NIST Certificate of Calibration with data. The DFE II Series has analog, USB and RS232 serial communication.
---
Features & Benefits
Capacities from 2 lbf (10 N) to 500 lbf (2500 N)

Selectable Units of Measurement - ozf, gf, lbf, kgf and N

Normal and Peak Operating Modes

Advanced Functions -


Load Limits
Pass/Fail
Embedded SPC
Overload History

Integral Load Cell


Better than 0.25% FS Accuracy
Mechanical Overload Protection to 150% FS

Simple User Interface

Selectable Display Languages - English, Spanish, French, German, Portuguese and Chinese

NIST Calibration with Data

Compact, easy-to-use force gauge for economy applications

1 Year Warranty

Tangent News
We have a new never used (or opened) Western MCLA High Pressure Reserve Medical Manifold for sale...