Equipment Sales
Testimonials
"Thank you Tangent Labs!
Having just taken a new position with my company-I had a lot of challenges and even more questions. Tangent Labs has been a lifesaver for me! The services offered by your company have been extremely helpful. My calibrations, certifications and tracking system are now all up to date and easy to access! Thank you Tangent Labs!-But an even bigger Thank You to the people at Tangent Labs for all of their patience and help!"
Julann Main - American Keeper Corp.

Cardinal Portable Floor Scale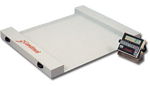 Weighing in at less than 100 pounds and featuring built-in handles and wheels, the Run-A-Weigh is easy to lift and roll to wherever you need it. Whether it's multiple weighing locations at a single facility or the need to take a scale to special job sites, the Run-A-Weigh gives you true portability.
If you need a general purpose scale, a scale for tough environments, or a scale for washdown applications, Cardinal has the right system for you. We offer enclosures in stainless steel or stainless steel NEMA 4X/IP66.
Designed for weighing "on-the-move," this portable scale features either the Cardinal 204 or 205 Digital Weight Indicators that can be mounted on the wall or desk for convenient viewing. Setup is simple and quick with the Run-A-Weigh's self-aligning feet. Heavy-duty construction, large checkered safety plate platform with integral ramps, and the 500 lb or 1,000 lb capacity make this the perfect scale for weighing barrels, drums, and small crates - anywhere!
Model
Capacity
RW-1000
1000 lb x 0.5 lb
450 kg x 0.2 kg
RW-500
500 lb x 0.2 lb
225 kg x 0.1 kg
Tangent News
We are excited to announce that as of January 2022, Tangent Labs is now a Transcat company!