Equipment Sales
Testimonials
"I am pleased to recommend Tangent Labs LLC to anyone in need of a highly professional and competent ISO-17025 registered firm. We have found Tangent to be a valuable partner and resource in our ongoing requirement to operate a QMS with reliable measurement data.
We have found their people to be highly competent and personable, their help- with metrology issues always available, and their pricing reasonable for the value provided.
After calibration activity is concluded, the QMS relies on the reports of that activity. Tangent Labs excels in this matter.; Their color reports are clear, accurate, and a joy to read for anyone concerned with measurement uncertainty and IM&TE status. This ISO-17025 certified lab also adds value-added service by making those reports accessible to us on their website in a secure manner. It is a very nice feeling to have this "back-up status" when we undergo our annual ISO/TS 16949 audit.
In the event we are in need of equipment, we know we can rely on Tangent for help in selecting the right equipment for the right measurement to assure quality.
I strongly recommend Tangent Labs LLC to anyone in search of a customer-oriented, internationally certified, calibration services firm."
Joseph T. Druecker - Heartland Automotive LLC

AP Dataweigh SR-1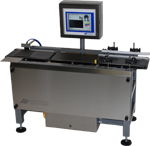 Designed with open architecture, the SR-1 checkweigher makes servicing and spare-part acquisition simple. Its bed design enables the SR-1 to weigh up to 200 pieces per minute and repeat to an accuracy of +/- 1 gram and +/- 0.5 grams in slower applications. The software-based control system delivers real-time statistical data through networking options. Features such as 60-second calibration and touch screen operation ensure the SR-1 is simple to use.
Applications:

Specifications:
Up to 200 products per minute

Up to 0.5 grams to 1 gram accuracy*

Precision CNC Machined

1'' Rollers

Various Belt Sizes

Stainless Steel or Powder Coated Mild Steel Construction

Up to 15 kg. Capacity

Belt Tensioning and Tracking without hand tools

Spike Filtering Load Cells

60-second Calibration


Touch Screen Controller Features:
12.1'' Color Touch Screen (optional)

Programmable RS-232 Communication Port(s)

VNC and FTP Enabled (remote trouble-shooting)

Multiple Level Password Parameter Menu

Fully Digital push-button Front Panel Calibration

Software-based Control System for Maximum flexibility

Configurable Streaming Statistics Reporting

Graphics Assisted Product Setup

3 or 5 Zone Sorting

Select Display Units in g, kg., oz., lbs.


GSC Features:
1 Programmable RS-232 Serial Port

1 10/100 Base-T Fast Ethernet

1 Compact Flash Slot

16 Inputs/Outputs I/O

Additional I/O, Analog Feedback

Tangent News
We are excited to announce that as of January 2022, Tangent Labs is now a Transcat company!